Twin Row Maize Sowing Raises Yields
Simba Great Plains is introducing the Great Plains Yield-Pro YP452A maize planter – and with its patented concept of Twin Row maize sowing - for trials in the UK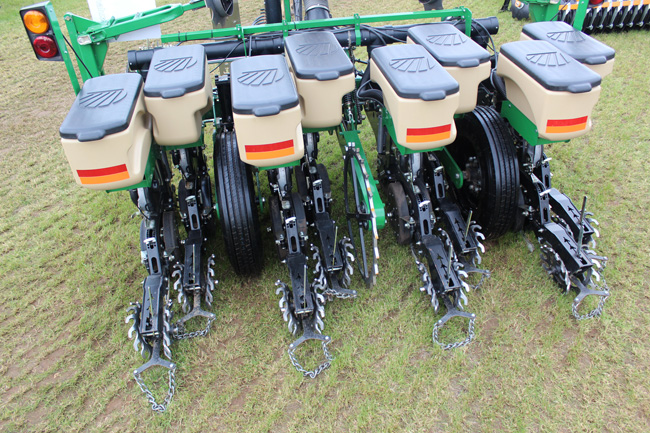 Great Plains Yield-Pro Maize Planter "Twin Row" sowing is a technique developed by Great Plains to help raise maize yields. It depends on combining the highly accurate seed singulation that its Yield-Pro drills provide via the combination of the company's Air-Pro® metering system and Clear-Shot ® seed tubes.

The Air-Pro system uses positive air pressure to position individual seeds into pockets from where they drop into the seed tubes and are delivered to the seedbed with complete precision – field and laboratory tests show over 99% accuracy from this system.

The Twin Row is formed by planting two rows of seed about 20cms apart either side of a centre line. The YP425A plants eight rows in four double lines, the distance between each centre line on the model being shown at Cereals 2012 being 75cms.

The planter uses Great Plains 25 Series opener, which achieves excellent penetration and evenness of sowing depth, and which offers long life and ease of maintenance.

Seeds in each twin row are delivered in an alternating pattern that ensures each seed has optimum space in which to develop a healthy root system and has space to grow, and does not suffer from crowding, either above or below the ground.

Other research shows Twin Row sown crops cover the ground better, which can help conserve soil moisture and ensure more efficient interception of sunlight, while the better spaced canopy may not suffer such disease pressure as conventional rows.

In trials completed on behalf of one of the USA's leading farming magazines this technique has been shown to improve yields by up to 11%.

"We are keen to test the potential of this drill and this technique in the UK, as it would help anyone growing maize make more efficient use of their land", says David Holmes, Simba Great Plains UK Sales Director.

"The technique has produced some of the best yields seen in the National Corn Growers Association Yield Contest, and we will be interested to see how well the system works in the UK".