Precision Control For Coating Line
Variable speed drives from Control Techniques are the drives of choice for drying and coating lines at Blackburn-based Phoenix Dryers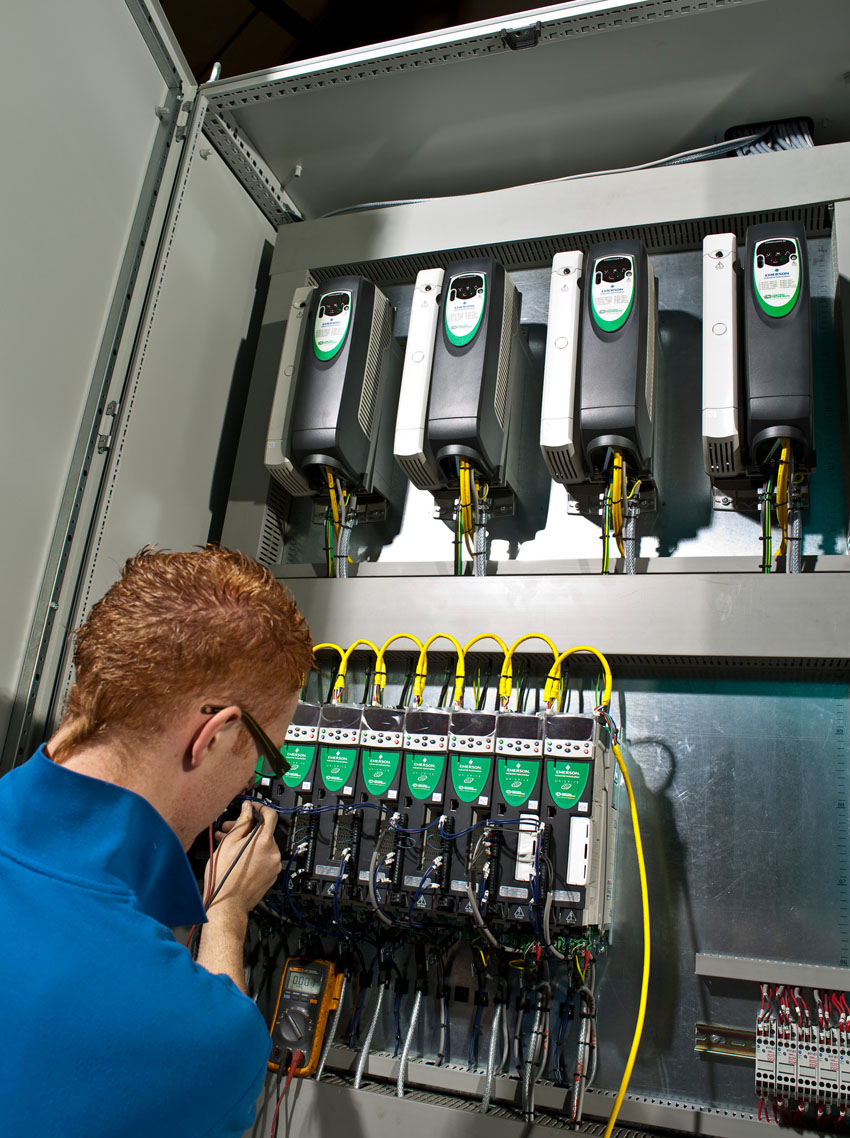 Variable Speed Drives From Control Techniques"We always fit drives from Control Techniques unless the client specifies otherwise," says Phoenix Managing Director John Beardsworth. "We find them easier to install and program and they are exceptionally reliable," he adds.

A typical line is one for rubber-coating a cotton web as the first process in the production of industrial textiles. This employs a total of 14 Unidrive SP and Commander SK AC drives from Control Techniques. "With a challenging build target, we found ourselves having to do the first-time turn on the entire line in front of a delegation from the customer," says John Beardsworth. "They were more than a little impressed that it ran up perfectly in synchronism with spot-on tension control. Even when an encoder failed, we reverted to open loop drive control on that particular section and it still performed faultlessly".

The coating line comprises an unwind section with an air brake controlling tension, followed by a 100 foot accumulator section, a spray/dipping coating unit, a dryer/curer and a take-off roll with dancer to control tension. Unidrive SP AC drives are used throughout, with additional Commander SK AC drives providing exhaust and recirculating fan control. The master for the line is a water cooled pull roll drive, positioned just before the take-off section, and this provides a reference master signal via DeviceNet to all the drives and the controlling PLC to keep the line synchronised.

The first of the Unidrive SP drives on the line is a 0.75 kW unit controlling the eight inch diameter nip roll feeding the accumulator with the 60 inch fabric web. An identical drive controls the S-wrap pull rolls followed by a 1.1 kW reverse dancer backup roll for tension control. The web then either goes through applicator rolls, for direct coating, again with a 1.1 kW drive, or is diverted through a dipping process, both followed by a nine inch diameter squeeze roll controlled by a 1.1 kW drive.

Also on this section a 0.75 kW Unidrive SP controls a seven inch diameter metering roll.

Throughout this process and the subsequent drying/curing, web tension is critical. The tolerance band is adjustable up to 300 lb (136 kg) and controllable to better than ±0.5 %, which is crucial to eliminate tension lines in the web as well as to prevent web breaks. "We have found problems with maintaining tension with some other drives," says John Beardsworth, "but drives supplied by Control Techniques always give accurate tension control".

The drying/curing section has a graduated temperature from 62 °C to 140 °C and the web exits the tunnel into a web-guider, where load cells monitor the tension and provide a feedback signal to the reversing drive. The hot web is taken through a water bath by water cooler pull rolls controlled by a 0.75 kW drive. The rewind section has two 1.5 kW drives, fitted with SM-Applications Lite modules supplied complete with Control Techniques' rewind software, for the two 36 inch, 0.2 to 3.2 rpm rewind rolls.

All of the Unidrive SP drives have encoder feedback and SM-DeviceNet communication modules, as well as an LED keypad. Additionally, all of the drives are heavy duty rated to give 150 % overload.

The four 7.5 kW recirculating fans and the 11 kW exhaust fans are all controlled by Commander SK heavy duty rated AC drives and all have flameproof motors. "This plant can use either water-based or solvent-based coating materials," explains John Beardsworth. "In the case of the latter, the safety and economy of the plant is totally dependent on the accurate and reliable operation of the fan system," he says. Sensors monitor the levels of solvent in the exhaust and feedback to the drives. Levels in the recirculating air are kept well below the lower explosive limit (LEL) by controlling the amount of flow to the exhaust. The exhaust air is then fed to an abatement plant to prevent release of solvents into the atmosphere. "It is important to recirculate as much of the hot air as possible to keep energy costs down," adds John Beardsworth, "but even more important to maintain a good safety margin".

The Unidrive SP 'Solutions Platform' AC variable speed drive range spans 0.37 kW right up to 1.9 MW. It is configurable into five operating modes – open loop, RFC (rotor flux control), closed loop vector, servo & regenerating modes. With a range of plug-in option modules, its onboard PLC can be supplemented with programmable, specialist feedback and communication modules.

The Commander SK is small, yet powerful, taking up very little panel space and is renowned for its reliability. It is easy to fit, set up and use with all the 10 parameters most users need being accessible from the display keypad which is included as standard. Very important in today's carbon aware economy is its energy saving efficiency and state-of-the-art manufacturing standards which are responsible for the drive's outstanding reliability.

"Drives from Control Techniques are our drives of choice for so many reasons," concludes John Beardsworth. "Feedback from customers confirms that they are very, very reliable – but if there is a problem, it's reassuring to know that the worldwide network of Drive Centres with stockholding will provide rapid support and replacement if needed. We appreciate the excellent support we get from Control Techniques here in the UK and we like the flexibility of the drives in all circumstances – connectivity to all major networks and feedback devices and straightforward programming for instance. Their aim of supplying quality products and a quality service meshes well with our own philosophy."

Phoenix Dryers was established in 1984 with the aim of providing full and correctly engineered technical solutions to their clients' processing needs. Industries encompass PVC, textile finishing and nonwovens, medical and all types of coatings, plastics, rubber, film and so on.