Sea Kings Fly High With Ambirad
On a site exposed to fierce coastal winds, one of the biggest and busiest helicopter base in the UK required a state-of-the-art heating system for two new 2500m2 hangars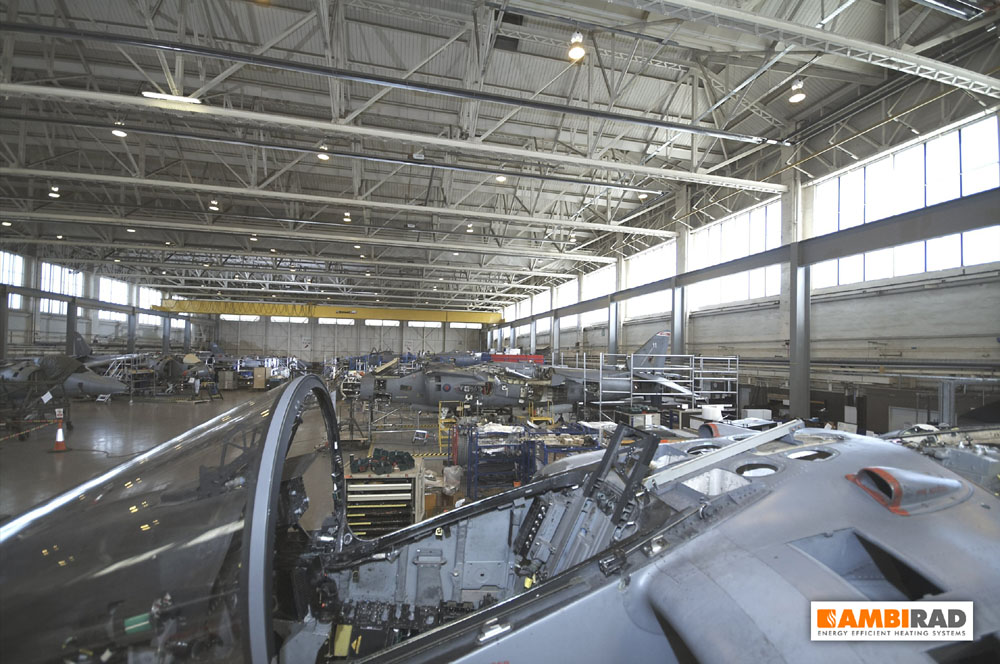 Nor-Ray-Vac Continuous Radiant Tube HeatingThe system needed to ensure 24/7 activity that would not leave maintenance teams in the cold. Home to four Sea King Helicopter squadrons and located on the Lizard Peninsula in Cornwall, Royal Naval Air Station (RNAS) Culdrose is now benefiting from Nor-Ray-Vac continuous radiant tube heating from AmbiRad.

Sea Kings from Culdrose are regularly deployed to Afghanistan and also perform the vital function of Search and Rescue (SAR) for the South West coast and western approaches. The Royal Navy's Sea Kings are due to be phased out of service by 2016 so the new hangars for client Defence Infrastructure Organisation (DIO) have also been designed to handle the larger Merlin helicopters that will replace them.

With five large hangars at RNAS Culdrose already being heated by Nor-Ray-Vac, this continuous gas fired radiant tube system from AmbiRad was once again up for the challenge of heating a high roofed building economically. This energy efficient and rapid response heating system does not heat the air and so the primary heat source is not lost when the hangar doors are opened.

Whilst working for Debut Services (South West) Ltd, on behalf of Defence Infrastructure Organisation, consultant Atkins and specialist contractor Mitie Engineering worked with AmbiRad on designing a flexible system for the two new hangars using Nor-Ray-Vac to provide blanket heat but also zoned to the operational requirements of servicing the Sea King & Merlin helicopters.

For the 771 Squadron hangar, Mitie installed 12 x 32LR burners at a height of 10 metres which were arranged in 4 zones with 2 discharge fans. The Sea King Airborne Surveillance and Control Squadron (ASaC) hangar required 8 x 38LR and 4 x 32LR burners at a height of 12 metres which were arranged in 6 zones with 2 discharge fans.

The burners and radiant branch end vents of all the Nor-Ray-Vac systems were supplied with ducted fresh air to comply with the Crown Fire Standards for operational aircraft hangars. These efficient units have reduced running costs and qualify for inclusion on the Government's Energy Technology List.

AmbiRad's Nor-Ray-Vac heating system is the cost and energy efficient method of heating many new and 'old' military hangars and ensures a more comfortable and healthier environment for busy maintenance teams.