Repairing Potholes In Sao Paulo Brazil
Trials of Ultracrete Instant Road Repair have been carried out in various locations around Brazil, including the extremely busy São Paulo ring road, with impressive results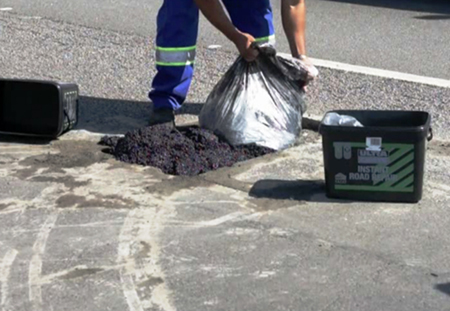 Instant Road Repair In São PauloUltracrete Instant Road Repair is the perfect solution to repair damaged asphalt caused by drying out, cracking and road surface melting and is also being used to solve these problems in Australia, Africa , Portugal and New Zealand - plus many other countries around the world .

Ultracrete Instant Road Repair is a cold mix technology, developed over 30 years ago as an instant permanent repair for potholes and damaged asphalt. It requires no heating and is applied straight from the tub. It is suitable for use in all climates (including wet), in residential and community areas.

Pothole repair material like this is always needed, no matter the time of year or climate – the beautiful Brazilian climate poses no problems!

It is used in tough environments such as airport runways and motorways. It's proven durability and versatility means it is also suitable for railway stations, footpaths, driveways, restaurants, road construction, docks, public utilities, hotels, hospitals and school playgrounds – it doesn't matter where the pothole is, Ultracrete Instant Road Repair® will fill it!

Ultracrete Instant Road Repair requires minimal preparation and there is no need for mixing, priming or sealing. It can be compacted and trafficked immediately. It is environmentally friendly, as well as being cost and labour effective as only one visit is needed!

Instarmac currently has 20 licensees worldwide manufacturing and distributing Instant Road Repair. Each licensee benefits from a protected territory and receives technical , commercial and marketing support.

Instarmac are actively seeking Global Business Partners to manufacturer this innovative product under license in Brazil and worldwide. For further information please contact the Instarmac Group plc – details below

To view Instant Road Repair being used on the São Paulo ring road, simply visit http://www.youtube.com/InstarmacGroup.