Revolutionary Gauging System Wins Third International Award
Renishaw's new Equator Gauging System for the high-speed dimensional inspection of manufactured parts has been honoured with another top international award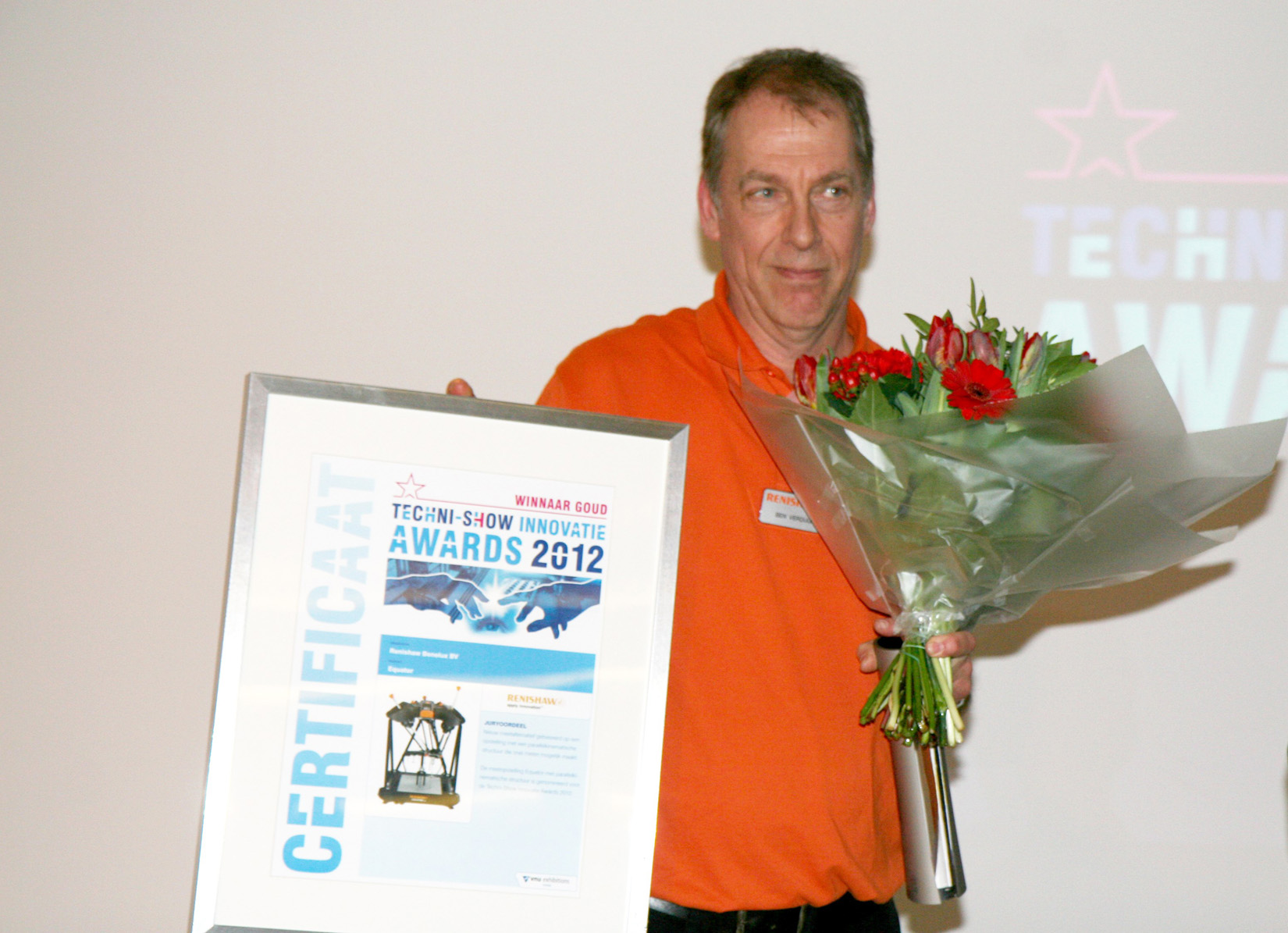 Ben Verduijn of Renishaw Benelux With Gold AwardRenishaw won the Gold Award at the Techni-Show Innovation Awards 2012, held in Utrecht, The Netherlands, on 13th March.

The top Platinum prize was won by GFAgieCharmilles for its HSM400 machining centre, whilst the Silver prize went to Amada's HD-1003 automated bending machine.

The Techni-Show trade fair is Holland's most important exhibition for industrial production and engineering technologies, and the award for Equator was achieved against strong international competition, with seven other nominations, including products from respected companies such as Mitsubishi, Nikon and Fehlmann.

Judging of the Techni-Show Innovation Awards was made by an independent panel of leading Dutch industry experts including editors from Metaal Magazine, Made in Europe, Vraag en Aanbod and MetaalNieuws. The citation for Equator said that it "highly interested the jury because of it being a measurement alternative that enables fast measuring due to its parallel kinematic structure."

Commenting on this new award, Ben Taylor, Renishaw's Assistant Chief Executive, said, "This is the third international award for the Equator gauging system and is another outstanding achievement given that the award judges innovation across all categories of manufacturing technologies."

The Techni-Show Gold Award for Innovation further recognises the radical nature of Equator as an alternative to traditional dedicated gauges that fills a gap in the market never before addressed. In March 2011 the Equator gauging system also beat 18 other entrants to win Best Innovation in the 'Machine Environment' category at the leading French manufacturing awards 'Trophée de l'Innovation INDUSTRIE 2011'. Later that year it also won the award for best Mechanical Measurement product at the 'Palmares Technologique' awards organised by the leading French magazine 'Mesures'.