New Aquaculture Workboat From Alnmaritec
Alnmaritec, the specialist aluminium boat builder based, recently announced the completion of 'Shelagh Jane' a new aquaculture workboat for service on a fish farm on the West Coast of Scotland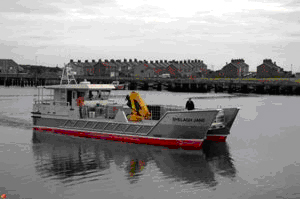 Alnmaritec Shelagh JaneThis rugged no nonsense support boat is a development of the highly successful Alnmaritec Wave Worker class. She is designed specifically to have improved sea keeping properties to allow her to transfer long distances between fish farm sites and she has a unique hull form to fulfil this role.

She is 16.3m long x 6.1m wide and is fitted with twin Doosan 200bhp engines driving fixed pitch propellers. She has a 20 tonne hydraulic crane with a sea water ballast system to allow her to pick up heavy cages and she has a large working deck providing plenty of versatility, even allowing her to carry livestock between islands.

Inside her spacious wheelhouse she has a helm and crew seat and a mess are with galley and table for three crew as well as ample storage and a WC. She is fitted with a 5 tonne capstan with leads forward and athwart ships and at the bow she has a removable bulwark for loading over a jetty. She has beaching skegs to allow her to take the ground and in the true sense of the word she is a real workhorse.

As a result of the closure of the Caledonian canal for the winter, the boat had a long and demanding delivery trip from Blyth up around the north coast of Scotland and down through the Western Isles, all in late February – commenting on the delivery trip the operator stated – "The journey was a very good test for the boat. We found that she has good sea-keeping qualities and is a good stable boat in a sea. The engines also ran very nicely and used considerably less fuel than anticipated!".

Chris Millman Managing Director of Alnmaritec said – "This is the third boat that we have supplied for this customer which is very pleasing and we are delighted so far with her performance. We hope that she continues to perform above expectations and to serve her new owners well for many years".