Ultracrete Keeping Communities Connected
Ultracrete Instant Road Repair has been used to repair some of the busiest roads in south-west Nigeria – improving the lives of local rural communities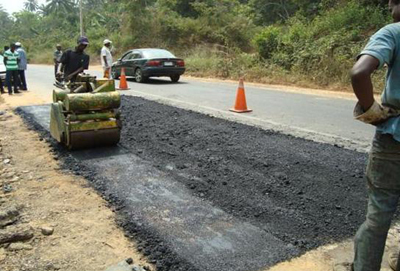 Ultracrete Instant Road RepairDangerous potholes had virtually stopped economic activities in the rural communities along the Gbongan-Oshogbo and Ilesa Road in south-west Nigeria. The poor state of the roads made it difficult for farm produce to move from one point to another and for tourists to reach the Osun Oshogbo Festival.

Portland Paints and Products of Lagos, a producer of Ultracrete Instant Road Repair under license from Instarmac Group plc, used the cold lay asphalt to repair the damaged road.

Oshogbo is the trade centre for this large farming region producing yams, cassava, grain, tobacco and cotton. It is crucial that these roads can be passed safely in order for the local communities to earn an income.

Every August, thousands of people travel from all over the world to attend the Osun sacred groves in Oshogbo, a grand and colourful cultural festival. The festival increases tourism for the area and provides a much needed economic boost for the Osun State.

Portland Paints and Products, in collaboration with the Federal Road Maintenance Agency (FERMA) repaired the road using Ultracrete Instant Road Repair. The local communities have already seen a positive impact – reducing poverty, increasing quality of life and boosting economic importance.

Ultracrete Instant Road Repair is a cold mix technology developed as an instant and permanent repair for potholes and damaged asphalt. It requires no heating and is applied straight from the bag. It is suitable for use in hot and cold climates, wet areas, sparsely populated areas and both urban and industrial areas. Pothole repair material like this is always needed, no matter the time of year, climate or country.

Ultracrete Instant Road Repair requires minimal preparation and there is no need for mixing, priming or sealing. It can be compacted and trafficked immediately with minimal disruption. It is environmentally friendly, as well as being cost and labour effective as only one visit is needed.

Following the application of Ultracrete Instant Road Repair, the socio-economic activities of the local communities have significantly improved; thus leading to a better and increased economic/purchasing power of the people. With this increased economic empowerment, the quality of life of the beneficiary communities has tremendously improved.

For further information on Instant Road Repair or to sell this innovative product under license in your own territory, please contact the Instarmac Group plc - details below.