New And Improved Hotel Guest Room Ironing Centre From Corby
Corby of Windsor, an international manufacturer of hotel bedroom and bathroom amenities announces the launch of their new Corby Ironing Centre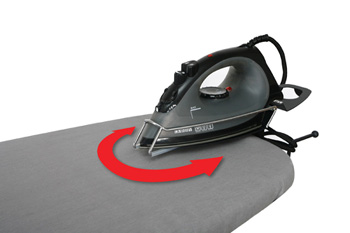 Hotel Guest Room Ironing CentreThe ironing centre was created and designed specifically for the hotel and hospitality market and includes specific design features like an anti-theft device and an auto cut-off safety system.

Inspired by the Corby trouser press, the new Corby Ironing Centre delivers both durability and functionality. By using some of the key design elements from the trouser press, Corby have updated the look, feel and design of the ironing centre to suit any room, as well as withstanding the rigorous daily usage to be expected from a hotel ironing centre. The functionality of the Ironing Centre includes a rotating iron holster to maximise the ironing space for guests, cord tidy and hook for easy space-saving storage. It is simple to use as it is both lightweight and includes a quick release system for easy and adjustable set up and take-down.

Guest room amenities are available for use on a day-today basis by either the housekeeper or guest. To ensure your ironing centre meets the rigours of everyday use it is clear that durability and quality is paramount. To meet these high demands the Corby Ironing Centre comes complete with an easy to clean aluminised cover to not only protect the ironing board but to also decrease ironing time by reflecting the irons heat back into the garment. The Ironing Centre is supplied fully assembled and includes a choice of either the Corby dry or steam iron in black.

The NEW Corby Ironing Centre is manufactured by Corby of Windsor with not only the quality and value you would expect from them but with careful consideration of the impact electrical products have on the environment. Corby Manufactured and Eco Friendly products are clearly indicated to provide their customers with the information needed to make an informed choice. In addition to this they have also extended their manufacturers guarantee from 1 to 3 years to further enhance the confidence they put in their products.

To find out more, or to order the New Corby Ironing Centre, please feel free to call them directly or purchase it online at http://www.corbyhospitality.com/free-standing-ironing-centres/. To find out more about Corby's extended range of electrical products, please feel free to browse their website at http://www.corbyofwindsor.com/hospitality.