Keeping German Autobahns Moving
Leading German road maintenance material manufacture, Instamak, has been a licensee of Emcol International since 1996. The Emcol brand became part of the British company Instarmac Group in May 2010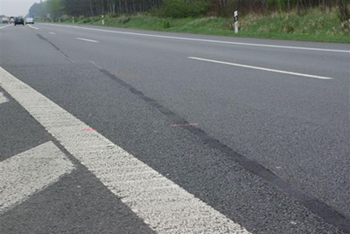 Instamak ReparaturasphaltInstamak® have turned their product into a proven choice for the repair of potholes on many of the busiest roads in Germany, including the world famous Autobahn.

The intersection on the Autobahn at Potsdam where the A9 Autobahn Munich to Berlin meets the A2 Autobahn Rotterdam to Berlin, is one of Germany's busiest roads. Hundreds of thousands of vehicles travel across this section regularly with peak traffic at Easter reaching 900,000 vehicles a day.

It is no surprise that parts of the road had become cracked and damaged needing urgent attention. This was the ideal location for the German Emcol licensee's product, Instamak® Reparaturasphalt. This repair remained in place, failure free for more than 2 years. This section of the Autobahn has now been widened to 8 lanes to cope with increasing traffic volumes.

Emcol Instant Road Repair offers the benefits of an instant, first time permanent repair which can be compacted and trafficked immediately – perfect for when time is not a luxury.

Emcol Instant Road Repair is the ideal solution for repairing damage caused by freeze/thaw cycles and breakdowns caused by drying out, cracking and melting of surfaces.

It is suitable for use in hot and cold climates, wet areas, sparsely populated areas and both urban and industrial areas. Pothole repair material like this is always needed, no matter the time of year, climate of country.

The product is simple to use and will stand the test of time even under the most severe weather conditions. It is environmentally friendly, as well as being cost and labour effective.

To contact Instamak® please call +49 (0) 38823 5582-0 or email info@instamak.de.