Leading Thermoforming Trade Former Expands Activities
MHP Industries Ltd has expanded its activities with an investment of £130,000 in two of the recent offerings from Ridat, the London-based thermoforming machinery manufacturer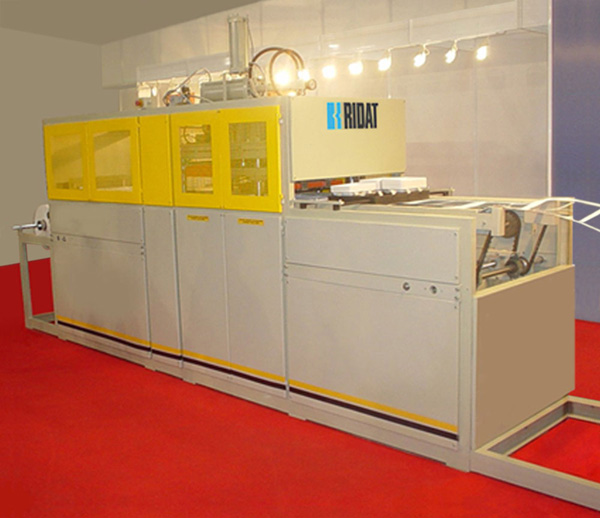 "The availability of the two fully automatic thermoforming machines from one UK manufacturer and at a very affordable price", says Mark Hipgrave, Managing Director of MHP Industries Ltd, "enabled us to upgrade our facilities even in this tight financial climate"

"We were particularly pleased", he commented, "that the Ridat machine includes, as standard, most of the features associated with equipment from much more expensive West European manufacturers. During our formative years (some 40 years ago) all our machines were of Ridat manufacture. Some of them like the Midmatic machine are still in operation and it's pleasing to see that Ridat has broadened its range to provide current-day solutions".

The two machines acquired by MHP were the model 2420AFCS Automatic Form-Cut-stack machine and the model 6040AVF Automatic Vacuum Forming Machine with duplex Heaters.

The standard Ridat model 2420AFCS Automatic Form-Cut-stack machine has a two-pitch pre-heat station incorporating moving top and bottom platens for both forming and trimming stations. Material index is via spiky chain driven by servo motor to ensure indexing accuracy. It has a forming area of 600mm x 500mm (24" x 20"), a forming depth of 4" (100mm) and a 60mt servo driven trimming press.

"Apart from the cost angle", added Mark "the features like a largish forming area of 600mm x 500mm (24" x 20") in conjunction with a 60tonne servo driven trim press provides great flexibility in mould design and handling the newer materials like GPET."

Ridat has an even larger model 3024AFCS with a maximum forming area of 750mm x 600mm (30" x 24") with a 60mt servo driven press. Pressure forming versions of both models are also available.

The standard Form-Cut-Stack machine for MHP was fitted with an additional piercing press to enable them to produce the components without the need for post-operation of punching euro-slots.

The Ridat model 6040AVF Automatic Vacuum Forming Machine features as standard forming area 1500mm X 1000mm, duplex Heaters with closed-loop digital heating controls to ensure accurate zone with PID control for temperature regulation and clamping system for materials up to 12mm thick.

Other features - which will also become standard in future production examples of this model - are automatic sag control, a photo-electric safety curtain, fast cooling of the formed product, bubble facility, quick mould changing and a user-friendly micro-processor system for fault identification, if needed.

"At MHP, we've earned a reputation for being a versatile, experienced company which uses the latest technology", says owner Mark.

"Ridat have taken our suggestions into their design and manufacturing thinking, with the result that the new machine will be of great help to us in further expanding product throughput. We particularly like the fact that with Ridat it is relatively easy to modify, adapt and upgrade the machines using standard parts." he added.