European Machinery Brand Expanding Into US Market
As one of the longest established brands in European thermoforming machinery, Ridat, is seeking market expansion into North America through some form of trade partnership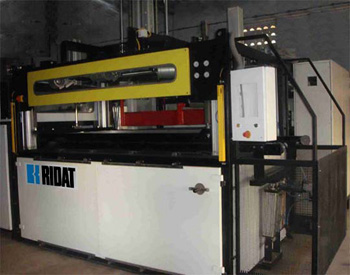 The London, UK-based manufacturer is known for its robust and competitively priced comprehensive product range, which extends from basic low-cost manual machines through to fully automated multitasking systems and installations that provide significant savings in materials and labour costs, handling and speed of throughput.

For over 40 years Ridat machines have been successfully marketed, distributed and operated in Europe and worldwide. As a market leader, their innovative product development raises the bar in meeting the requirements of specific and emerging industries' packaging. Close collaboration with individual customers' unique requirements has produced many new bespoke designs.

"We believe that the current economic climate – when so many companies are examining production processes more closely than ever before – is exactly the right time to build a significant US presence," says Ridat Managing Director, Mr Dipak Sen Gupta.

"Self-motivating sales agents and manufacturers' representatives, with established contacts in relevant fields, have a golden opportunity here," he added, "to get in on the foundation of rewarding and ongoing business right across America".