Geotech Biogas Analyser Gets Modbus Telematics
In response to customer requests, Geotech will supply its user-installed GA3000 fixed biogas analyser with Modbus comms as standard from 21st November 2011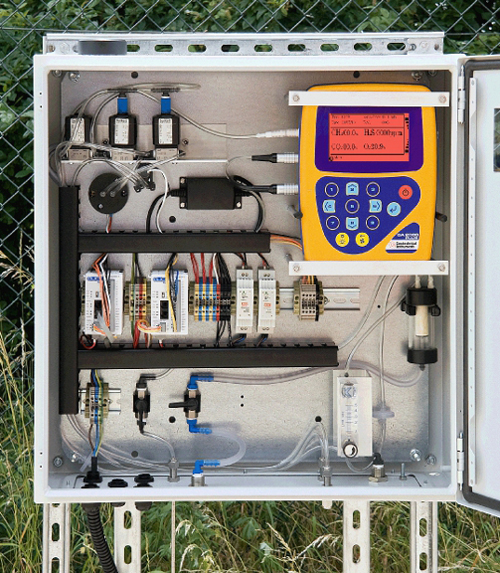 Geotech GA3000 Biogas AnalyserGeotech will include these modern digital comms within the already low entry-level price for the GA3000. Modbus provides digital data comms to SCADA and numerous other systems simultaneously from the GA3000 which also continues to provide 4-20mA signals.

The Geotech GA3000 automated fixed position biogas analyser is used with landfill gas extraction or anaerobic digestion (AD) biogas from waste food or waste water sludge treatment.

Multiple benefits
Quicker, easier to install and cost-saving, Modbus is increasingly becoming more widely used and recognised as a communications method within business, commerce and industry. It operates on a network structure for daisy chain, star, ring and branch. Modbus uses less wiring than conventional 4-20mA outputs, has no electrical noise and is easier for users to install and has lower installation costs.

Modbus requires only one communications port at controller level and allows multiple analog and digital points to be connected at the same time. Several commands can be communicated via a Modbus network allowing for data transfer, whereas only one command can be transmitted per 4-20mA connection.

Simple and robust
Modbus has become an industry standard allowing communications between many devices and a master. This means biogas concentration data from the GA3000 can be readily integrated with flow, pressure, and other instrumentation to give comprehensive information within an integrated fieldbus network. The plant control system, or SCADA, can then generate SMS or on-site alarms and alerts or even shut down the CHP engine automatically if it is in danger of being damaged by poor quality biogas – which it can divert to flare.

Commenting, Simon Sheridan, Geotech sales and services manager, said, "We are responding to customer requests for the successful Geotech GA3000 easy-to-install fixed gas analyser to have the option of Modbus comms digital output. With Modbus the operator can inspect the CH4, CO2, O2 and H2S readings remotely and the easier it is to do that, the more likely it is that it will be done. That leads to more control of the process and minimizing system downtime."
For the more technically minded, Modbus is a widely used and recognised Fieldbus standard in which, for example, the GA3000 system acts as the 'slave' PLC, from which the client's 'master' system or SCADA retrieves the required signals.

Fieldbus is an industrial network system for real-time distributed control. It is a way to connect instruments in plants. Fieldbus is the equivalent of the Local Area Network (LAN) connections, which require only one communication point at the controller level and allow multiple (hundreds) of analog and digital points to be connected at the same time. This reduces both the length of the cable required and the number of cables required. Some Fieldbus devices now support control schemes such as PID control (proportional–integral–derivative controller) on the device side instead of forcing the controller to do the processing.

Now the Geotech GA3000 automated, fixed position biogas analyser can assist users with modern, easy-to-use digital comms with quicker installation times and faster data transmission - a timely upgrade to 4-20mA signals which continue to be available.