The Efficient And Economical Oil Free Compressor
The iSeries oil-free compressor from the Gast Group is a compact, self-contained compressed air package consisting of a rocking piston compressor and air receiver.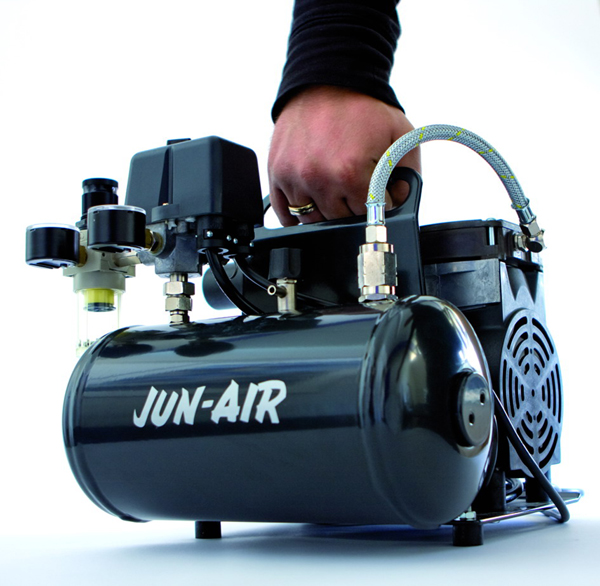 iSeries Oil Free CompressorRequiring no installation, the fully-automatic package uses fewer moving parts to help reduce wear, provide maximum reliability and minimise maintenance.

Launched as an extension to the GAST and JUN-AIR ranges of oil-free compressors, the iSeries is designed for continuous operation and is ready to operate straight from the box. It can be placed directly at point-of-use or wherever a reliable source of compressed air is required.

The three compressors in the iSeries range offer pulse-free airflow rates from 3.17 to 6.35 cfm (90 to 180 m3/h), a maximum pressure rating of 100 psi (7 bar), tank sizes from 4 to 25 litres (1.1 to 6.6 gallons) and motor outputs from 0.33 to 0.67 HP (0.25 to 0.50 kW). Like all JUN-AIR oil-free compressors, the new iSeries is vibration-free and extremely quiet, operating at just 66dB(A) as a free standing unit.

Receivers are internally powder-coated to resist corrosion and ensure optimum air quality, and other features include manual drain. All units are supplied with a two-year warranty.

The iSeries reflects the Gast Group's continued commitment to research and development at a time when many manufacturers are cutting back. Like all GAST and JUN-AIR compressors the iSeries range combines performance and usability with environmental features such as low energy consumption, minimum maintenance and versatility, which makes it the logical choice wherever an efficient yet economical oil-less compressor is required.