Centurion Sets New Standards
Great Plains' new Centurion cultivator drill brings new levels of sophistication in drilling to European farmers, in a machine that combines low running costs with easy maintenance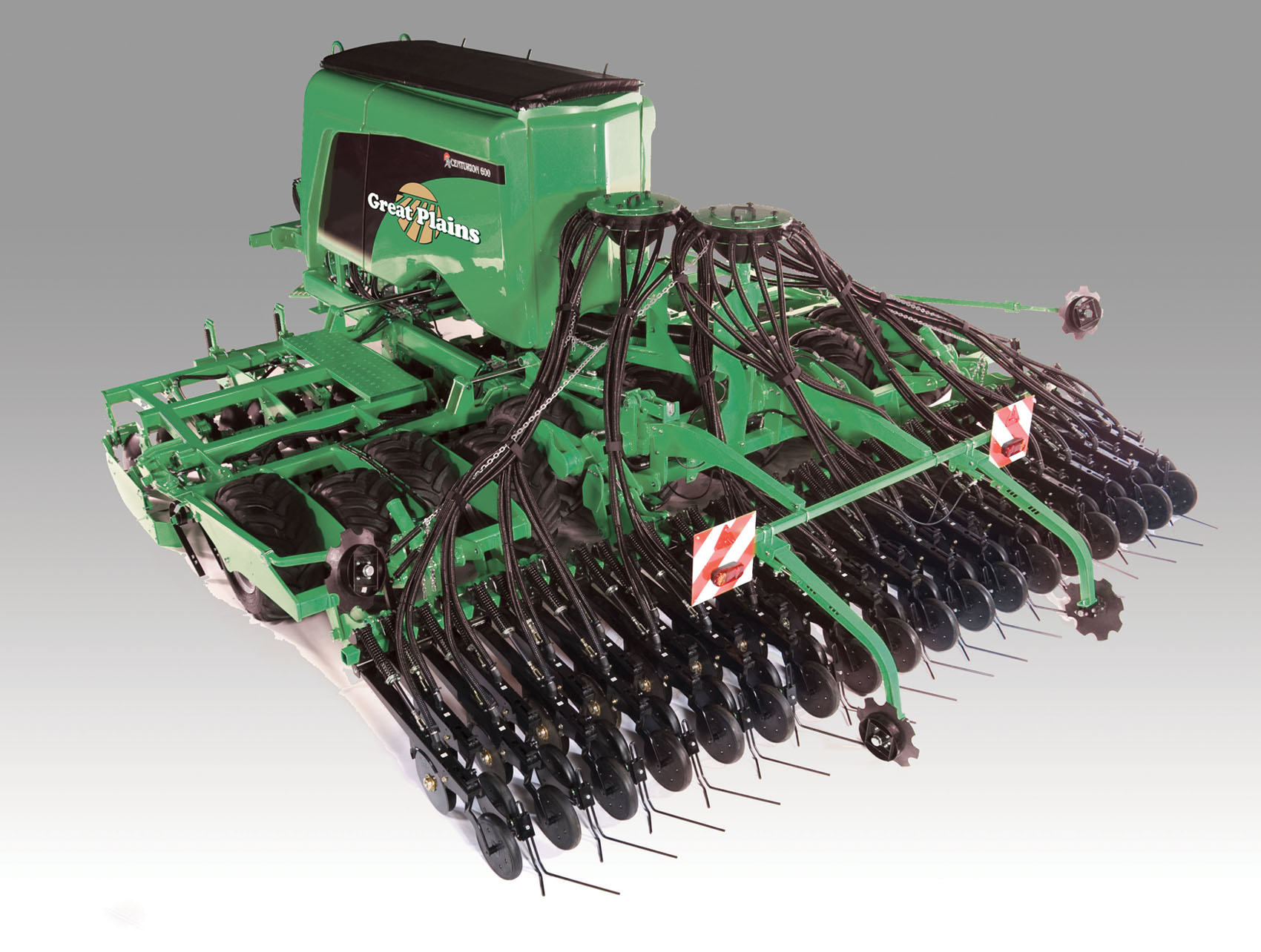 Simba Great Plains Centurion DrillThree examples of this approach are the use of nylon bushes to replace metal ones to minimize metal-on-metal contact and greasing needs; a service lift height of the drilling coulters so wearing parts can be changed quickly and easily; and enabling all "in field" adjustments to be made without specialist tools.

The Centurion is the first joint engineering project between Great Plains' Kansas-based development team, and Simba's Sleaford, Lincolnshire based team.
It will initially be offered in 4m and 6m versions, with 3m and 8m models being added later.

Farmers who have seen the machine working this autumn have been impressed with its ability to place seed accurately, thanks to its robust drilling coulters. These feature a pair of 4mm discs staggered front/back by 8mm so they open an effective seed slot in all soil types.

Discs are mounted on heavy-duty arms that can apply up to 210kgs down pressure which ensures penetration in the hardest conditions. Opener depth is controlled by a T-handle at the rear, which can be adjusted in 18 different quarter inch increments.

Pressure is applied via a system that ensures the coulter remains level in the soil, guaranteeing consistent seed delivery - something that cannot be achieved if the weight is applied from one end of the coulter assembly.

Hopper capacity is 4,100 litres, which can be all seed or split 50/50 seed and fertiliser. The hopper can be mounted on load cells that provide information to help optimise output, including time/acreage to hopper emptying; calibration checks; and measuring seed into the hopper to avoid wastage. When linked to GPS, it can transmit this information back to the farmstead.

Further "ease of use" features include a 2.7m x 1m hopper opening and a hopper cover that can be opened when the drill is folded, which facilitates bucket and farmyard-loading. An optional loading auger is available.

Early users have been impressed with the seed delivery system, which offers seed rates from 0.5kg – 500kg/ha for everything from oilseed rape to beans with just three manually-interchangeable rollers, powered by an electric motor with a speed range from 5rpm – 120rpm.

Metering rollers feature a seed pocket pattern to eliminate seed bunching. The rollers are made of corrosion-resistant nylon so they can handle fertiliser.
The seed distribution heads are specially designed and can be fitted with built-in seed flow sensors. Half width shut-off is available on all models.

A weight transfer system – from the hopper to the wings and from the drill body to the coulters – ensures even drilling depth is maintained. As the hopper empties, the system automatically adjusts weight distribution to ensure equal pressure across the machine's full width.

All main hydraulic and electric controls are grouped together under protective panels either side of the drill hopper for easy access.

The drill's cultivation is via 460mm notched discs mounted on rubber-damped, maintenance free arms. A full width front tyre packer is available, as is a levelling board run between the discs and the central tyre roller. Working depths of all elements are independently adjustable in work.

When turning on headlands all packer wheels remain in contact with the ground, spreading the drill's weight evenly to minimise compaction risks. A 'half-lift' function that needs comparatively little hydraulic oil flow makes in-field turning quicker.

For transport the whole drilling element lifts 180mm clear of the ground, while to facilitate 'in season' maintenance it lifts to over 400mm. When in road transport mode only four braked tyres contact the road, making it easy to travel on country roads with significant cambers.