The Virtues Of Using Ultracrete Instant Road Repair Cold Lay Asphalt Concrete
For many years it had been accepted that using hot roll asphalt to repair roads and potholes was the best and only foot forward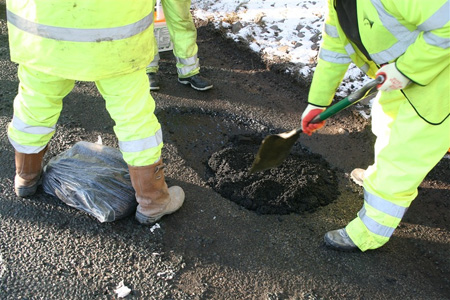 However innovations in cold lay and technology from Ultracrete, over the last 30 plus years have led to a cold lay surfacing material suitable for both temporary and permanent pothole repairs and reinstatements.

Using hot roll asphalt incurs many costs for the contractor. Specialised equipment is often needed to ensure correct temperature during repair, whilst the asphalt has to have cooled completely before trafficking. This not only causes an inconvenience to road users but incurs traffic management costs whilst the road stays closed for repair.

These repair costs can be avoided with Ultracrete's Instant Road Repair. Supplied in 25kg buckets, it is applied cold in wet, hot or freezing conditions, meaning a simple and safe pothole repair, opening the road to traffic instantly.

Instant Road Repair is suitable for all areas and is constantly required, no matter the time of year, climate or country.

It is simple to use and will stand the test of time even under the most severe weather conditions

Already used in highways, pathways and expressways across the globe, Instant Road Repair is also solving problems in industrial estates, forecourts, car parks and leisure complexes.

Instarmac Group plc is a market leader with over 30 years experience in the formulation, manufacture and distribution of specialist cement, resin and bitumen based products in the UK and throughout the world.

For further information on Instant Road Repair or any of the other products in Ultracrete's range of highway maintenance products or to become a licensee in your own territory, please contact the Instarmac Group plc - details listed below.