Dura Composites Awarded Business Of The Year At Top Awards Ceremony
Dura Composites, a global supplier of high strength, low weight composite flooring & cladding has been named "Business of the Year" at the annual ActionCOACH Awards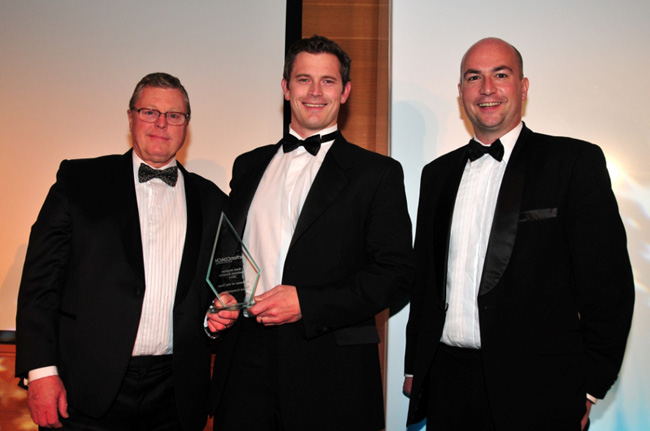 Colin Burns / Stuart Burns with Duncan BrodieThe Essex based family-run business which was established in 1995 supplying innovative fibreglass and wood plastic composite products has gone from strength to strength to scoop the top honours in the regional competition recognising the benefits of business coaching.

Accepting the East Anglian region award at the ceremony at the Radisson Blu Hotel Stansted, Director Stuart Burns said it was "fantastic recognition for all the hard work from the sales, production and administration teams, and a result of real dedication to the needs of the customer."

The company also took home the 'Financial' award and was also short¬listed in both the Innovation and Marketing categories. The awards come on the back of a hugely successful year for the firm which has seen its sales grow by 72% year on year, despite the recession. The company now regularly work with major contractors to supply composite products for use on major landmark projects such as The Palm Dubai and for blue chip end clients such as National Grid & Network Rail.

This huge growth has been achieved as a result of a clear sales expansion strategy which includes the recruitment of specialised international distributors for its products. Distributors are now in place in Dubai and Australia to enable Middle Eastern and Australasian clients to benefit from the wide range of industrial, marine, construction, transport and leisure.

Domestic business is also on the rise for the company, which is attracting 30% new customers each month. Since 2010, Dura Composites has been working with ActionCOACH the prestigious business coaching firm to ensure that clear goals are set and monitored for each department and that the performance of each team and its members is maximised through training and development. As a result of its work with ActionCOACH and reaching its stretch targets, Dura Composites has been able to continue its expansion programme and has been able to recruit ten new staff in the past twelve months, with further growth projected for 2012.