Raising The Roof With Arrival Of A Third Contactor Pressure Vessel
Ironsides Lubricants this week saw the arrival of a third contactor pressure vessel to our Stockport site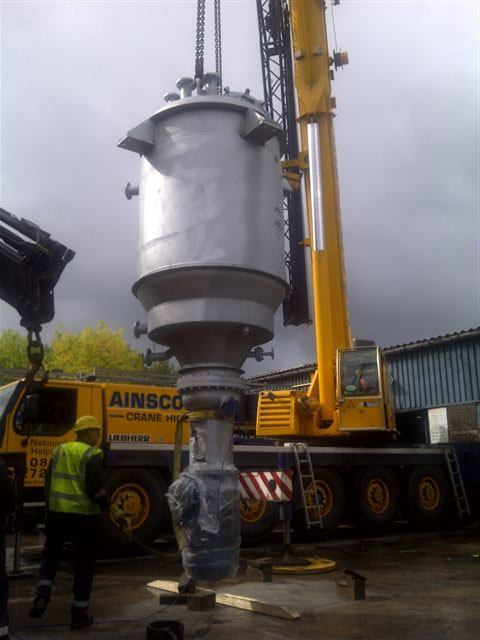 Ironsides Lubricants were the first grease manufacturers in Europe to implement the use of the grease contactor technology more than 30 years ago and have been subsequent pioneers in the use of contactor technology in manufacturing greases.

The use of contactor pressure vessels allows flexibility and efficiency of manufacturing grease soaps over traditional autoclave oven cooking methods.

Our third contactor allows Ironsides to offer our existing and new potential customers the flexibility and efficient delivery of both standard and specialist grease products.

Neil Cork, Ironsides Operations Director, commented that "the arrival of the new contactor was the culmination of several months planning, and he was looking forward to commissioning the new vessel into production. Neil went on to say that "with this new contactor Ironsides Lubricants are establishing themselves as a serious force in the European grease market. Through efficient manufacturing techniques and reduced energy consumption, Ironsides Lubricants are now capable of delivering all our customers product expectations and service aspirations".

The reactor, and improvements to other aspects of our manufacturing plant, are all part of Ironsides Lubricants' major investment plan for the future. These measures will increase our capacity, and improve our versatility. They will help us to maintain our position as the UK's leading grease manufacturer, supplying own label and bespoke products to the oil industry both at home, and ever increasingly, world wide.