New Grab-O-Matic Quick Attach Release Drum Handler
St Clare Engineering Ltd (Grab-O-Matic) have developed a new Quick Attach / Release drum handler fork attachment to increase safety and efficiency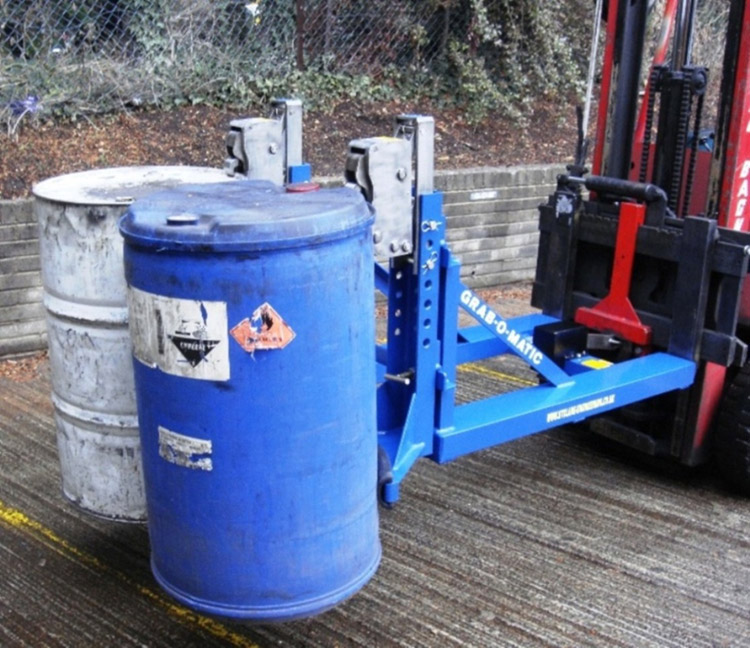 The Grab-O-Matic QR-2-DLR is a double drum handler that can be securely attached to the forks and released without the need for the truck driver to dismount from his cab.

How Does it Work:
A Carriage Hook Plate is bolted to the centre of the fork truck carriage, this then stays in place permanently as it does not interfere with the normal lifting and moving of pallets and is only 300mm wide.

The forks are inserted fully into the fork pockets and when raised a sprung loaded lever locks behind the Carriage Hook Plate and will only release when the unit is lowered to the ground, this reverses the action and the forks can be withdrawn from the unit.

This process eliminates the need for the fork truck driver to dismount from his cab to secure the drum grabs to the forks with either 'T' bolts or chains saving valuable time when switching attachments, the system is safer as it reduces the risk of accidents due to the 'I can't be bothered to get off and secure the unit to the forks syndrome'.
This unique system Increases Safety AND Saves Time!

The Quick Release frames are universal with all current Grab-O-Matic pillars and gripping heads, this is a safe, secure and efficient way to attach the Grab-O-Matics to any fork truck, the only information we require when ordering is the size and type of carriage your trucks have and the length, width and thickness of the forks.

All the Grab-O-Matic range of fork attachments can be manufactured using the Quick Release system, increasing safety and decreasing change over times for attachments.

The unit shown in the photo has stainless steel gripping heads for us in ATEX hazardous areas.

St Clare Engineering manufacture a complete range of drum and materials handling fork attachments and pedestrian units for use in areas where fork trucks are forbidden, the range includes drum handlers, drum rotators, fork attachments, self tipping skips, safety work platforms, jibs, crane hoists, floor sweepers, stacker trucks and pallet trucks.

Bespoke items can also be made to suit to customer specifications in both powder coated steel and stainless steel for ATEX or pharmaceutical applications.

All Grab-O-Matics are manufactured entirely in the UK, to ISO 9001:2008, CE marked, issue with Test Certificates to verify Safe Working Loads and Certificates of Conformity, backed up by 100% inspection.

A complete technical back up service is available via telephone or email, spares or replacement parts are readily available from stock for immediate despatch to all corners of the world if and when required.

St Clare Engineering Ltd have been manufacturing the Grab-O-Matic range in the UK since 1958, currently exporting in excess of 35% worldwide, we have a network of agents/distributors in various countries and are always looking to expand this network especially into developing countries.