Keeguard Launches New Foldshield Roof Safety Solution
Kee Safety, the fall protection specialist, has developed KeeGuard Foldshield, a clever and unobtrusive roof safety solution purpose-designed for corporate, heritage and sensitive public buildings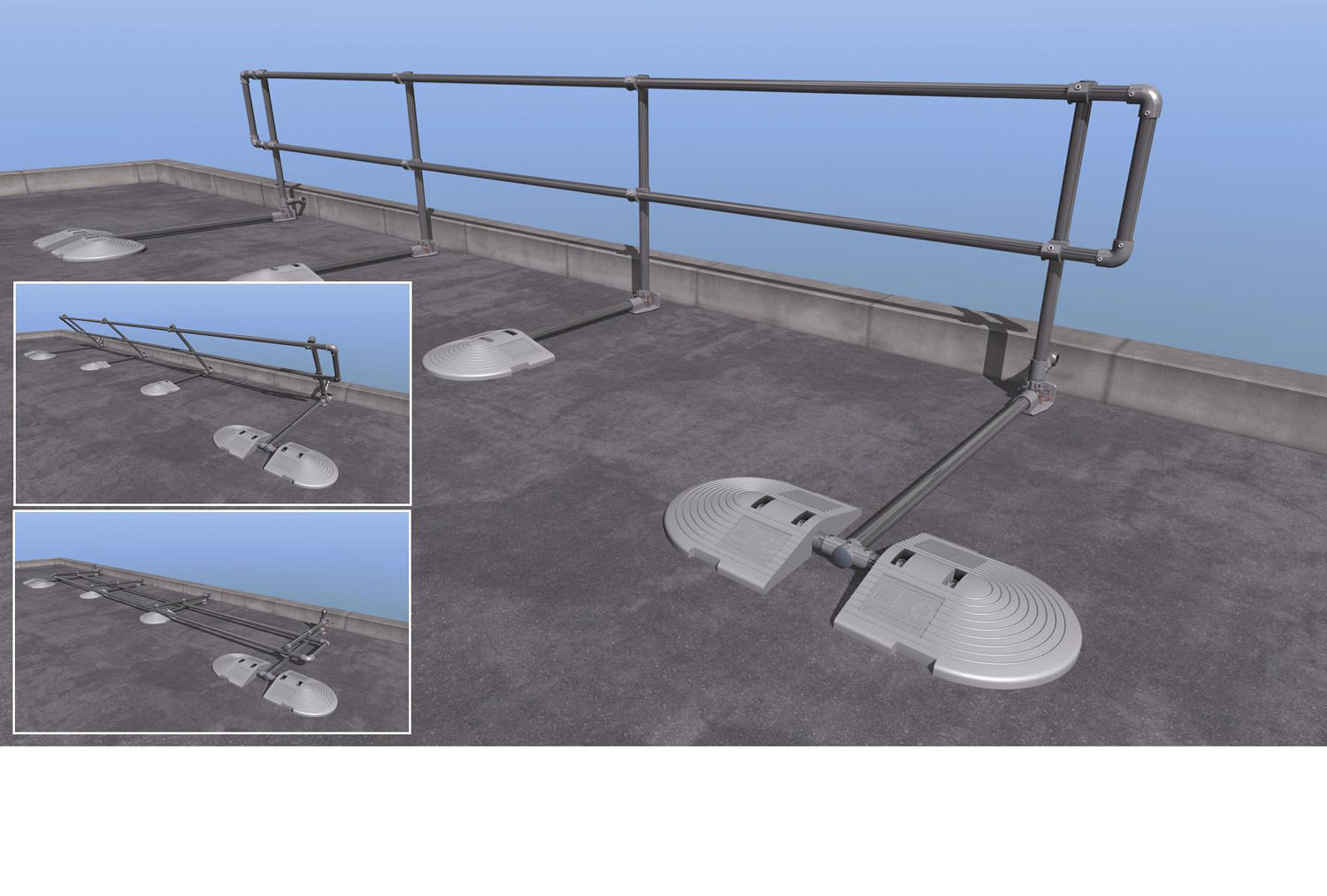 Capable of protecting maintenance teams and other contractors working at high level on buildings with flat roofs, and where aesthetics are a significant concern, KeeGuard® Foldshield provides all the edge safety benefits of the standard KeeGuard® system. Its collapsible design brings extra versatility.

With its specially hinged base, the KeeGuard® Foldshield guardrail can be lifted into place when work is in progress, then easily folded back down when not in use. Using a simple locking pin, it makes system use easy and straight forward. This foldable capability ensures KeeGuard Foldshield can be used over a greater choice of locations, where a fixed visible solution may be considered unsuitable for specification.

Like KeeGuard®, KeeGuard® Foldshield is a counterbalance system which sits on top of the roof surface without the need for any membrane penetration. It is ideal for a wide range of roofing surfaces up to a 10 degree pitch, including asphalt, concrete, mineral felt or PVC sheet covered roofs. Available in up to 6m sections, KeeGuard Foldshield can accommodate long, continuous runs, multiple changes in direction, levels, fixed ends and corners in both restrained and unrestrained applications.

"In certain circumstances, fixed safety barriers are not permitted on buildings" explains David Hill at Kee Safety. "KeeGuard® Foldshield provides a solution to this problem. It offers a quick, easy to assemble and fold solution with plenty of built-in versatility to meet most roof edge safety requirements".

KeeGuard® Foldshield complies fully with the requirements of EN 13374 Class A. The hinged fitting is also designed so that it is foldable in only one direction, preventing any risk of the structure folding the wrong way.

Available in a choice of either galvanised steel or aluminium top and mid rails, KeeGuard® Foldshield is a durable solution, requiring minimum maintenance. For additional details on KeeGuard® Foldshield and the rest of the Kee Safety roof protection range, please visit www.keesafety.com/uk.

Kee Safety Ltd is the UK division of Kee Safety International, a global safety company with offices in Canada, China, France, Germany, Poland, UAE and USA. The Kee Safety International business is divided into four sectors; Safety Components, Safety Systems, Safe Access Solutions and Safe Fixings. Safety Components incorporates the top-selling Kee Klamp® fittings, the corrosion-resistant Kee Lite® range and DDA compliant Kee Access® fittings typically used in handrailing and other tubular structure applications. Safety Systems incorporates a number of collective and personal fall protection solutions, including KeeGuard® roof edge fall protection, Kee Dome® skylight guardrail, Kee Walk® rooftop walkway system and the Kee Anchor® portable deadweight man anchor system.

Safe Access Solutions covers the industrial flooring and hand railing systems provided by the group's British Standard Gratings business. Finally, in Safe Fixings the company offers the versatile BeamClamp® and BoxBolt® steelwork fixing solutions widely used in curtain walling and other secondary steelwork applications.