Risk Of Slips And Trips On Stairs Is Reduced Even In Icy Weather
Awareness amongst specifiers of the risk of slip accidents on outdoor stairs is increasing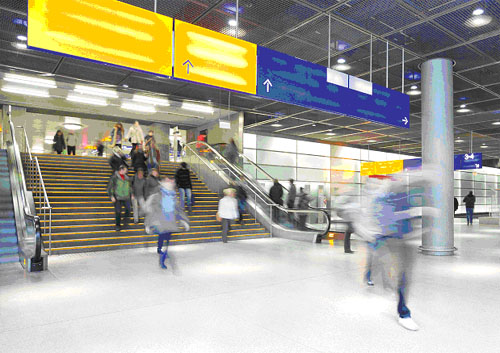 Steps that are uncovered and exposed to rain or ice, or heavily trafficked internal locations that are near to entrances and access points are extremely susceptible to becoming slippery and therefore are a danger to the public.

The new 'TEX' profiles have been developed, as part of the Trans-Edge Heavy Duty Stair Edgings range, by Gradus to meet the most demanding of applications to help reduce this risk.

Developed in line with guidance in BS8300:2009+A1:2010 and Approved Document M of The Building Regulations 2000, the new 'TEX' profiles include single, double or triple hard wearing inserts, which contain a mineral aggregate to provide additional slip-resistance at the step edge to reduce the risk of slip, trip and fall accidents. For use on most substrates including concrete, terrazzo and metal, the 'TEX' profiles provide an ideal solution for stairs in external and heavily trafficked internal environments such as motorway foot bridges, railway stations, airports, sports stadia, outdoor arenas and the petrochemical industry.

Independently tested by the Health & Safety Laboratory, Gradus' heavy duty stair edgings are designed to prevent slips and trips, with a 'Low' Pendulum Test Value (PTV) of 76 for dry conditions and a 'Low' PTV of 67 for wet conditions. The edgings have also performed well under accelerated wear tests, accelerated UV weathering tests, as well as being chemical resistance tested to ISO175:2001.

Jill Harrington, for International Communications for Gradus International, said: "The duty to create accessible environments as set out in the Equality Act 2010 still applies outdoors and this is why Gradus' new heavy duty stair edging range has been specifically developed for use on stairs in external environments or interior stairs close to entrances where slips and trips are more likely to occur, such as sports stadia, railway stations, airports, petrochemical facilities and road and rail bridges".

Gradus' new range of Trans-Edge heavy duty stair edgings comes with a 10 year warranty and are available in a choice of three insert colours, which all have a Light Reflectance Value (LRV), in line with guidance in BS8300:2009+A1:2010 and Approved Document M of The Building Regulations 2000.

Gradus is a major supplier to the healthcare, education, leisure, cinema, hotel and retail markets of contract interior products such as Stair Edgings, Floor Trims and Flooring Accessories, Carpets, Wall Protection, Barrier Matting systems and Step and Aisle Lighting.