Huge Savings For Leading Manufacturer Of High Performance Materials For Civil Engineering And Building Construction Projects
Production rate increased 30 per cent. Investment cost cut 40 per cent. Reduced costs of unit and power consumption.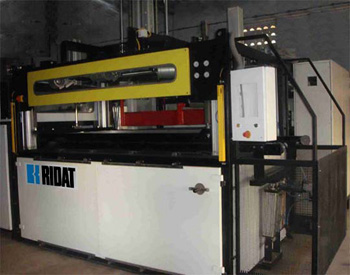 These are the savings achieved over the past 18 months by the UK's market leading manufacturer and international supplier of high performance materials for highway, civil engineering, and building construction projects, directly as a result of employing Ridat machinery.

In 2009 additional capacity to address increased demand for products became a pressing issue, and the Operations Director commissioned an independent report on options from the Manufacturing Advisory Service (MAS). At the time, the company was running two traditional sheet vacuum forming machines with a third older and less reliable machine kept in reserve to top-up at times of peak demand.

The brief given to MAS was to determine whether it would be more beneficial to buy a new European machine similar to those already in use or to refurbish the older machine to provide capacity for business growth. The MAS report concluded that both options were viable.

Refurbishing the standby machine (book value of £20,000) was costed at £61,500, a total of £81,500, in comparison with a new replacement machine from the original European manufacturer at a cost of some £200,000.

At the point of deciding to refurbish the standby machine, Ridat Company, the UK manufacturer of thermoforming equipment, offered a new replacement machine (model 8040AVF Vacuum Forming Machine with Duplex Heater, reel feed attachment and pre-heat oven) for around £120,000. Additional features embodied in the Ridat machine more than offset the refurbishment price differential.

MAS was made aware of Ridat's offer and assessed its merits in comparison to the two existing options, concluding that the new Ridat machine offered better value for money, would consume less energy and provide higher production rates than the 2 machines currently in use. And the offer was accepted.

Now after 18 months of use the new machine has proved itself by increasing unit production rate by 30 per cent, for an investment cost saving of 40 per cent, while also cutting setup time, reducing power consumption and increasing control over product quality as provided by its sophisticated control systems.
Little wonder that Ridat are at the top of the company's list for potential machinery improvements in this area of production.