New Flexure Gauges From Solartron Metrology Provide High Accuracy At High Throughputs
The digital and analogue sensors can maintain their exceptionally high repeatability and resolution of less than 0.1 µm over millions of measurement cycles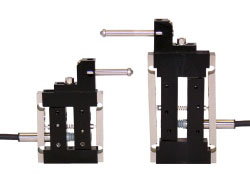 Solartron Flexure Gauges The compact gauges are ideal for post process or in process applications requiring high precision and high volume measurements, where the high throughput would shorten the life of conventional pencil probes.

There are no sliding parts within the sensor or its parallelogram shaped frame, ensuring the gauges are frictionless and virtually free from hysteresis.

The analogue gauge with half bridge or LVDT output can be used with most standard amplifiers. The digital gauge interfaces with Solartron's Orbit® network, which enables even higher linearity over its full 1 mm or 2 mm measuring range. Orbit also allows the gauges to be mixed with other digital transducers in a single measurement system.

The IP65 rated gauges can be mounted with little or no stress through the gauge centre line, which allows precision profiling of moving material such as sheet products or rotating shafts, brake discs etc.