ACI JetBlack Personnel DeDuster Helps Break Dangerous Bad Habits
They say that in order give up bad habits something positive must be put in their place. So it was at the Whitwell Works of Steetley Dolomite Ltd who quarries and produces magnesium limestone product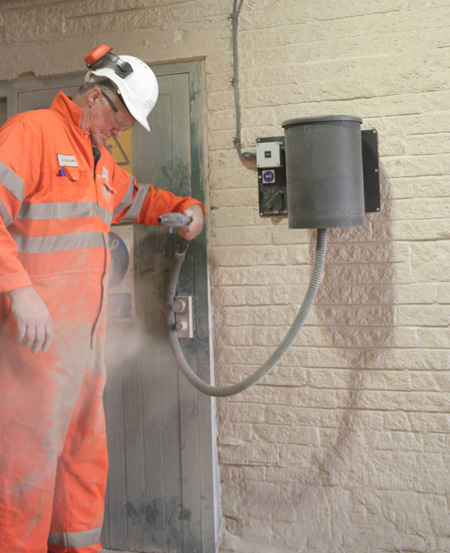 After the limestone is quarried it is crushed, sized and processed to produce various products for such applications as steel furnace manufacture and repair, steel production, refractory products and agricultural soil improvement. The processing of the limestone to produce these products results in the creation of a lot of dust around the plant which gets deposited on the overalls of workers on site.

To de-dust themselves, although advised frequently not to because of the very real danger that it poses, many of the staff used to clean their overalls down with compressed air. Posters about the risks and verbal warnings from the Safety Leader for compressed air, John Collins, seemed to do little to deter them from the practice.

Thankfully that situation has now changed. This has come about since John Collins had a blower powered 'JetBlack' personnel cleaning unit from Air Control Industries (ACI) of Chard installed on trial after an on-site demonstration. The trial, which started in February, proved so successful because of the appreciation by his colleagues throughout the plant for its safety and ease of use that he has had second unit installed.

"Everyone is really pleased with the ACI JetBlack", said John Collins, Steetley Dolomite's Senior Electro Technician. "It cleans down effectively and is safe. It eliminates all the health hazard risks present when using compressed air. By providing the JetBlack as an alternative we have broken the bad practice of using compressed air for cleaning down."

The blower powered JetBlack delivers high volumes of air at low pressure that can even be applied directly onto exposed skin. There are none of the risks of associated with compressed air whilst still achieving effective personnel cleaning.

In addition, the ACI JetBlack is quiet (78dBA) and cost effective to run, only using energy on demand with no drain on compressor power. The JetBlack is available as either a wall mounted or portable unit. Operation is by a hand-held gun on a flexible hose.