Gradus Supplies Hygienic Wall Protection To The James Cook University Hospital
Gradus has supplied and installed wall protection to The James Cook University Hospital's new cancer centre, as part of a £35million redevelopment to provide some of the best facilities in Europe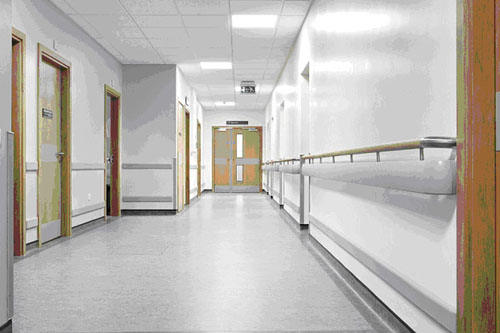 One of Europe's most modern hospitals, The James Cook University in Middlesbrough is the largest of its type with a wide range of district general hospital services and specialist services including neurosurgery, renal medicine, spinal injuries, major trauma, vascular surgery and cancer services.

Gradus has supplied and installed a complete wall protection system, including wall guards, corner guards, Dual Rail, a combined handrail and wall guard system, rubrails and bed protectors, all in the colour Willow (pastel green) to create a tranquil yet hygienic design solution to the new cancer centre. By installing a complete wall protection system the cost of ongoing repairs is reduced, whilst the aesthetics of the newly furnished unit are maintained.

The centre's corridors were fitted with a combination of products from the Gradus InPro range to provide optimum levels of protection against damage from pedestrian and wheeled traffic along with pedestrian guidance and support. 1400i wall guards were installed at mid and low levels to protect surfaces from being damaged by wheeled traffic such as trolleys and wheelchairs. Where pedestrian safety was a priority, 3500W Dual Rail provided the ideal solution, offering a timber handrail for support and a wall guard for impact protection in a combined system. Designed to meet the specific needs of healthcare environments, Dual Rail also meets the guidance set out in HTM 69 and HBN 00-04.

High impact PVC-u corner guards were fitted to all external corners in the clinical areas to absorb and deflect impact, where trolley damage could be expected. The wall and corner guards have replaceable snap on PVC-u covers that are through-coloured and textured to conceal the effects of impact abrasion.

To prevent scrapes and dents to doors, low and mid level kickplates and pushplates cut from Sanparrel PVC-u sheet were fitted along with PVC-u door edge guards to protect these vulnerable surfaces. Stainless steel corner guards were also installed, as they are hygienic, corrosion resistant, easy to clean and inhibit the growth of bacteria, making them ideal for all healthcare applications.

In addition, a Gradus bed protection system was installed in the ward areas to protect surfaces and critical wall mounted equipment from being damaged by patient beds and chemotherapy chairs, which are frequently being moved, lowered or raised.

Tony Bellamy, Main Contractor for Interserve, which managed the centre's construction, commented: "We are extremely happy with Gradus' wall protection system at the new cancer treatment centre at The James Cook University Hospital. The wall protection is a quality product, which looks great in situ and complements the centre's modern and stylish interior. We will definitely be working with Gradus again in the future."

Jill Harrington, International Marketing for Gradus, added: "Hospitals and health centres are under increasing pressure to specify products which are not only fit-for-purpose, but also look good and come at a reasonable cost. We are pleased to have provided The James Cook University Hospital with a complete suite of wall protection products that have met all these requirements."

Gradus is a major supplier to the healthcare, education, leisure, cinema, hotel and retail markets of contract interior products such as Stair Edgings, Floor Trims and Flooring Accessories, Carpets, Wall Protection, Barrier Matting systems and Step and Aisle Lighting.