Seal Rite Has The Golden Touch
Everbuild Building Products are pleased to announce that Seal Rite – the new sealant masking system has won a gold award in the D.I.Y Products Category at the Product of the Year Awards 2011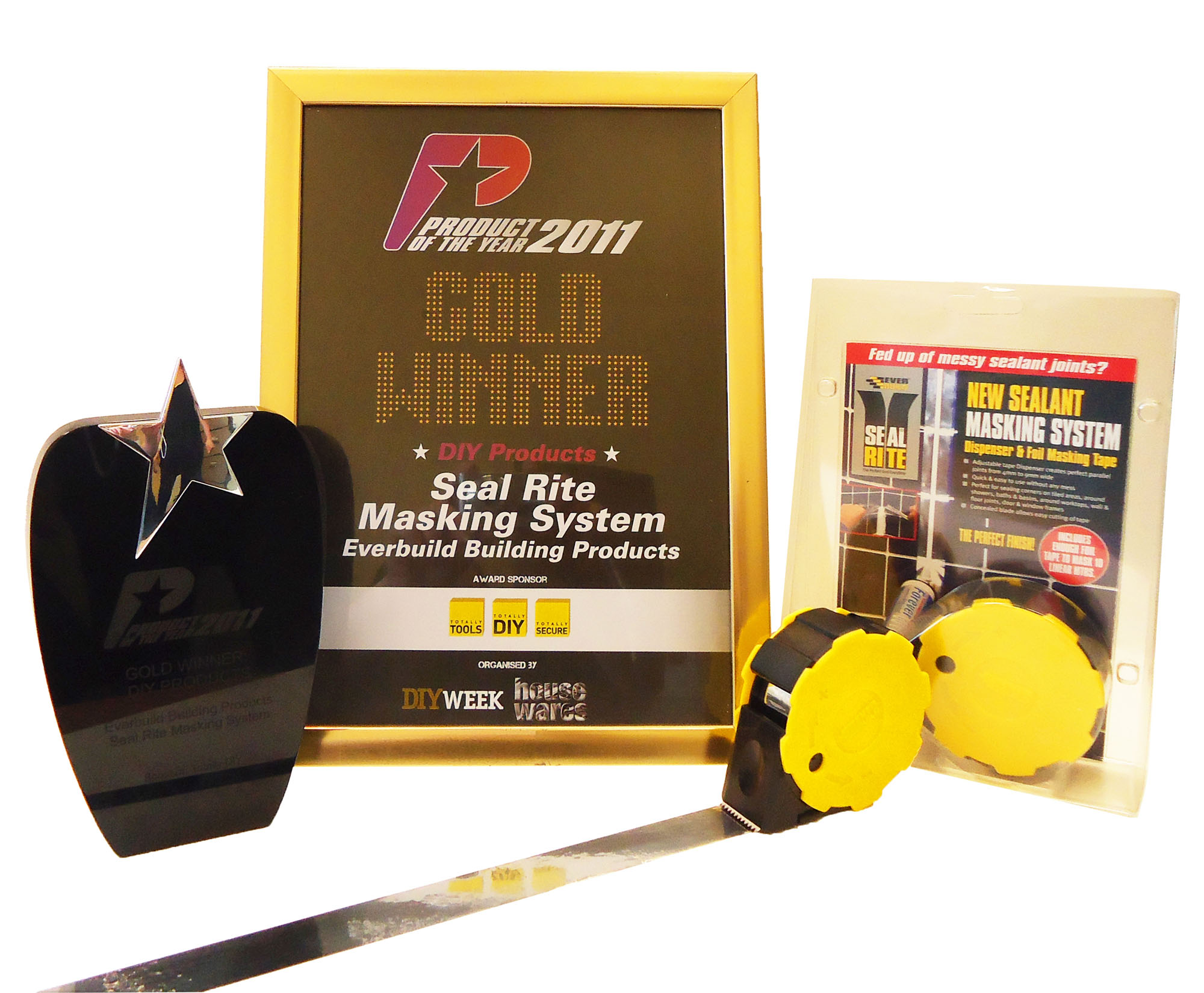 The awards, held at the Sheraton Park Lane Hotel in London and hosted by DIY Week and Housewares magazine, took place on Friday 13th May which, contrary to its reputation of being an unlucky day, proved especially lucky for Everbuild who beat stiff competition to walk away with the gold award for Seal Rite. Guests attended from across the DIY, garden and housewares sectors and the judging panel was made up of many influential figures from across these industries.

Everbuild were represented by Emma Whittaker, Marketing Product Co-ordinator and Charlotte Shearman, Marketing Administrator who were both overjoyed to accept the gold award from award winning comedian Adam Bloom who was the compere for the event.

Seal Rite – the winning product - is a dispenser and micro-fine foil masking tape which enables both Tradesmen and DIY'ers to achieve a perfectly finished joint every time, without any level of skill, eliminating both mess and wastage. This new system is designed particularly with corner joints in bathroom/kitchen applications in mind, but equally it can also be used in various other areas.

The unique adjustable dispenser, which has a patent pending, allows the joint width to be adjusted using the outer wheel of the product – both of these outer sides move simultaneously so that when applied the tape is positioned offset from the wall by the chosen number of millimetres. There are six joint size options ranging from 4mm to 9mm (in 1mm increments).

Once the joint size has been selected it is easy to run the dispenser down one side of the corner joint, nipping off the tape when the bottom is reached, with the handy cutting blade built into the dispenser. The same is then repeated on the adjoining wall to create the parallel lines to apply the sealant. Once this has been done, the Everbuild Smooth-Out Tool should be used to smooth down the joint before the tape is pulled off leaving The Perfect Seal Everytime.

For more information on the Seal Rite range or any other product within the Everbuild range please contact your Everbuild Sales Representative, or contact the Everbuild Sales Office - details below. The Seal Rite video is also available to watch on the Everbuild website.