Gradus Provides Headingley Experience With Step Lighting Solutions
Lighting specialist Gradus has supplied and installed step lighting for the Executive Suite at Headingley Experience in Leeds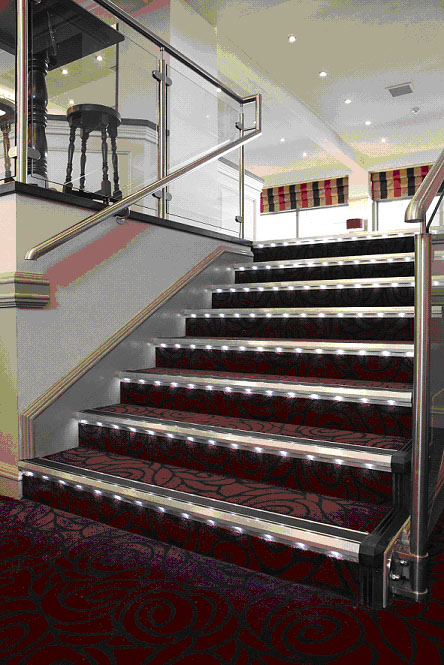 This prime viewing facility has recently been refurbished and offers an excellent base from which to enjoy cricket and rugby hospitality at its best. Ideal for larger events, the suite boasts ample bar facilities, a dance floor area and panoramic views of the Headingley Carnegie test cricket and rugby arenas.

To ensure optimum safety on the stairs for the clientele, illuminated aluminium stair edging profiles with superior slip-resistance were used to highlight the step edges. Product reference, ATD121L with Interlok Advance step lighting in White were supplied and installed by Gradus to create a pinpoint lighting effect on the stairs between the two floors of the Executive Suite.

ATD121L Interlock Advance stair profiles feature a downlight, illuminating the riser of the step. Installed to increase safety by equally defining the tread and the riser of the steps in both light and dark conditions, the highlighted steps help visitors and staff to identify the changes in level, reducing the risk of trips and falls, whilst the LED step lighting provides a non-intrusive lighting effect.

Gradus step lighting profiles are modular in design which makes maintenance and refurbishment work easy. The step profiles were installed with full cable management to hide all wires, creating a neat finish and preventing trip hazards.

John Hill, Headingley Experience General Manager, said: "Our Executive Suite features dimmable lights in order to create a variety of atmospheres. Because of this, we needed an attractive and fit-for-purpose step lighting solution in order to ensure our clientele could safely negotiate the steps between each floor."

Steve Gallagher of Gradus, added: "The refurbished Executive Suite at Headingley Experience boasts an incredibly good quality décor and is finished to a very high standard. Gradus' step lighting solutions work well in this environment as they offer safety as well as good aesthetics."

Gradus is the leading UK manufacturer of LED lighting products, combining safety with aesthetics, for use in casinos, cinemas, nightclubs, cruise liners and lecture theatres. Gradus Lighting way finding systems assist in creating safe and accessible environments for all, in line with BS8300:2009+A1:2010, Approved Document M and the Equality Act. Gradus also provides a full project management service, site installation, maintenance and after care.

Gradus is also a major supplier to the healthcare, education, leisure, cinema, hotel and retail markets of contract interior products such as Stair Edgings, Floor Trims and Flooring Accessories, Carpets, Wall Protection, Barrier Matting systems and Step and Aisle Lighting.