New Colour Options To Gradus PVC Skirtings
Floor trims specialist Gradus has added new colour options to its PVC skirtings range to suit the latest trends in safety flooring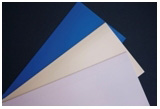 Designed for a wide range of commercial applications, Gradus' popular PVC skirtings are now available in three new colours: Dune, Azure and Salmon. The new colours have been designed to complement the top selling safety and vinyl flooring products from the major flooring manufacturers.

Dune is a light sandy colour, ideal for using with wood and vinyl flooring. Azure is a vibrant blue colour, which complements the highlights in safety flooring and Salmon is a warm beige colour which complements the top selling safety flooring products.

The new colours are available from April 2011 and incorporate blue and neutral tones to complement the flecks of colour seen in many of today's safety and vinyl flooring installations.

Jill Harrington from Gradus International, said: "Following analysis of trends in the marketplace, we have introduced these new colours to provide a greater choice of durable and low maintenance PVC skirting options for commercial applications."

Four colours will also be discontinued from the range: Aegean, Lavender, Honey and Chilli.

Gradus is a major supplier to the healthcare, education, leisure, cinema, hotel and retail markets of contract interior products such as Stair Edgings, Floor Trims and Flooring Accessories, Carpets, Wall Protection, Barrier Matting systems and Step and Aisle Lighting.