Guyson Blast Finishing Improves PVD Coating Effectiveness
Guyson International is one of the worlds leading manufacturers of industrial blast finishing equipment used for the surface preparation of components prior to physical vapour deposition (PVD)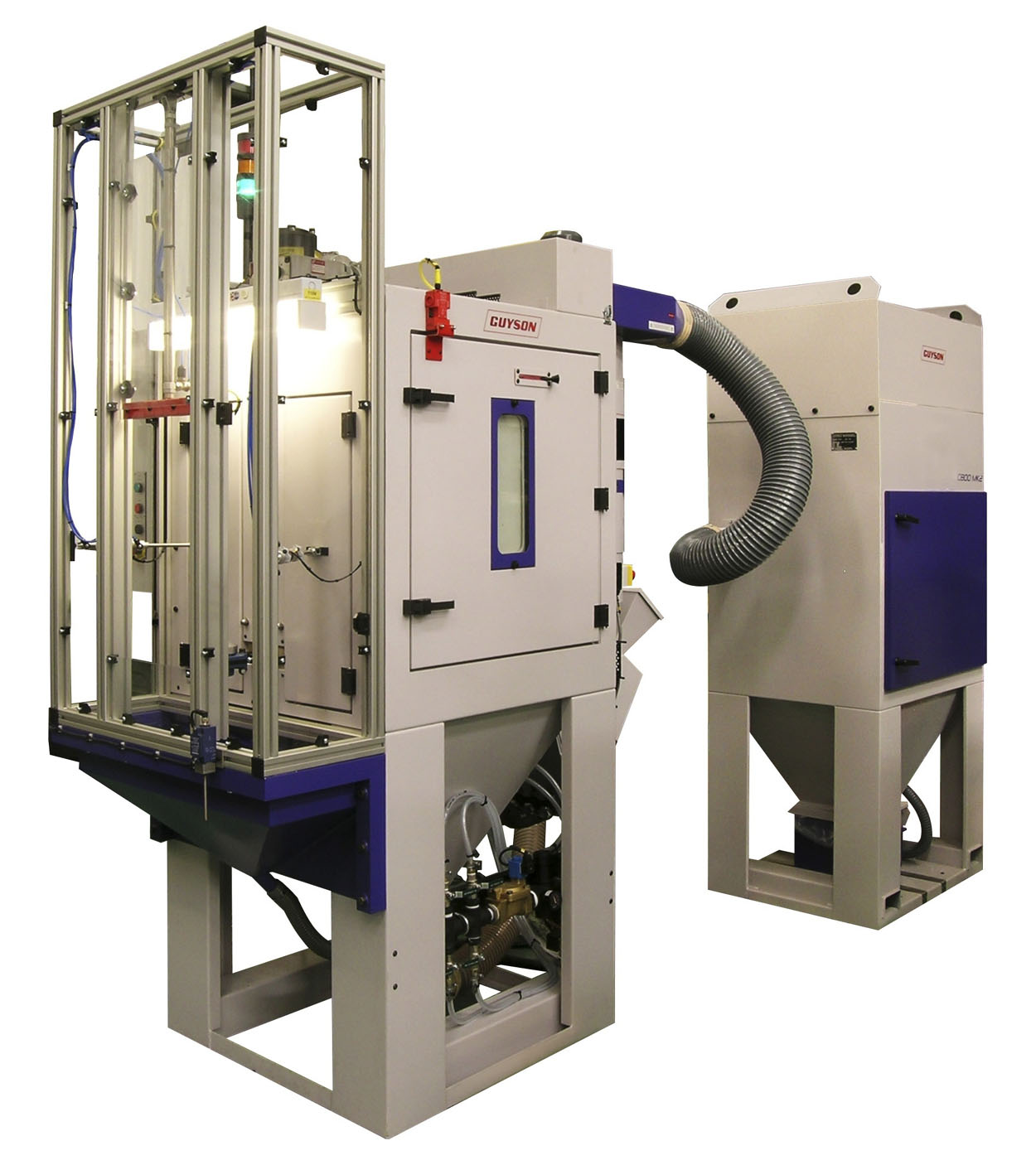 These benefits are brought about by blast etching the component surface, promoting the action of mechanical keying by increasing the surface area, which in turn can lead to increased coating bond strength.

Since the early 1990's, there has been considerable growth in the usage of performance enhancing coatings that include: hard wear, scratch resist, heat dissipation, corrosion protection and decorative coating on a wide variety of components, ranging from: chrome bathroom fixtures and door furniture, optical glass, exhaust pipes, compressor blades, medical implants and injection moulds to drill bit and cutting tools. These performance coatings offer an alterative to the more traditional methods of product surface enhancement such as electroplating and can deliver many advantageous characteristics: such as hardness and wear resistance, improved colour fastness, corrosion resistance and a reduction in tarnishing.

To deliver these component improvements, many manufacturers of high performance components such as high speed drills, cutting tools and hobs, found that a high level of consistency of the surface topography was essential to facilitate the required improvements in coating adhesion. So naturally many have contacted Guyson, and over several years now Guyson have been working in conjunction with a number of blue chip cutting tool companies, to achieve a consistent blasted component surface finish, which delivers improvements in coating adhesion, that in turn has led to increases product quality and performance.

To achieve the consistency of surface finish necessary has required the use of automated blast finishing equipment, to eliminate the inevitable variations in hand processing, coupled with highly controlled fine media blast finishing, 300 mesh and higher, prior to the hard wear coating. Guyson offers various levels of automation to the component manufacturer and these are discussed below.

Entry level automated blast systems are often based around the single Rotating Spindle Blast (RSB) concept. Single or multiple small components can be blasted in the Guyson Multiblast® RSB single spindle machine, dependent on fixturing and blast coverage. The spindle rotates at a controlled but adjustable speed and the components are grit blasted by a variable number of Guyson model 400 or 900 guns to suit the component and coverage. Component shape and dimensions dictate whether the guns are specified as static or vertically traversing; up and down the profile of the component. These are set at a correct pre-positioned angle and distance to achieve overall coverage of the target surfaces whilst they rotate on the spindle under a constant stream of Guyson blast media. This quickly and efficiently achieves the required surface finish and finally an automated air-wash, leaves them in a clean state ready for coating or ultrasonic cleaning.

For increasing component volumes, the RXS400 rotating and indexing two spindle system is frequently chosen; this machine has been designed specifically for the work-cell manufacturing environment. Typically this type of machine is quick to set-up and the blast parameters can be stored in a menu system for later recall to aid consistency of product surface topography. These machines are suitable for robot load and unload if required.

For very high production volumes the Guyson RXS900 Multiblast system is often specified. This blast cabinet is fitted with an indexing rotating turntable that can have six or twelve evenly spaced revolving work spindles which index through the process area presenting the components accurately and for a precise amount of time in front of the blast guns. Blasting takes place at two of the spindles, which are positively driven by a toothed belt to ensure an even blast coverage during rotation of the component. The machine can be equipped with variable amounts of either Guyson model 400 or 900 blast guns, mounted on fully adjustable arms.

The components are loaded onto the first spindle, outside of the blast chamber, by hand, pick and place or robot. The turntable then indexes through the blast chamber and around into an air-wash compartment to remove any residue blast media and finally back to the unload position to be unloaded by hand, pick and place or robot.

Each of these automated blast options involves tight control of parameters such as media type and size, blast pressure and gun angles. Enhanced media control via vibrating screen separators and/or cyclone separators provide consistent media sizing for improved surface finish results. Surface blast speed and blast nozzle stand off are other parameters to be controlled.

All Guyson Multiblast machines are provided with a human machine interface (HMI) that simplifies operation of the automated blasting, streamlines access to control functions, and enables password-protected direct entry of dimensional data or processing parameters into the system's programmable logic controller (PLC). The panel can also display control settings, production data and system feedback such as sensor and fault indications or maintenance prompts.

Guyson are now able to offer an additional option in automated blasting – robot blasting. Guyson offer two options, one with the component manipulated under the blast nozzle and the other with the blast nozzle manipulated around the fixed or rotating component.

Robot blasting enables very tight levels of blast control and absolute repeatable coverage, time after time. Perfect for components that require a precision finish and validation of that finish; such as medical implants. Cost savings in compressed air consumption, media wastage and labour can often be made to offset the cost of the robot.

A complete automated blast machine installation includes a cyclone media reclamator to separate contaminants and fines from the recirculated media and an efficient cartridge type dust collector that filters exhaust air to prevent discharge of particles into the work environment. Guyson offer numerous media delivery and reclaim system enhancements to meet special separation and dust control requirements.

Guyson are also able, through it extensive range of Kerry ultrasonic cleaning products, to direct its customers towards the most appropriate precision cleaning process to compliment the automated blast finishing.

Prospective user of Guyson automated blast systems are encouraged to submit sample components for free feasibility testing to the company's extensive development workshop located in Skipton, England.