Innovative Dust Collection Technology Saves Time And Money
Twelve months after the European market launch, the new PowerCore® dust collection technology proves to be a real success story.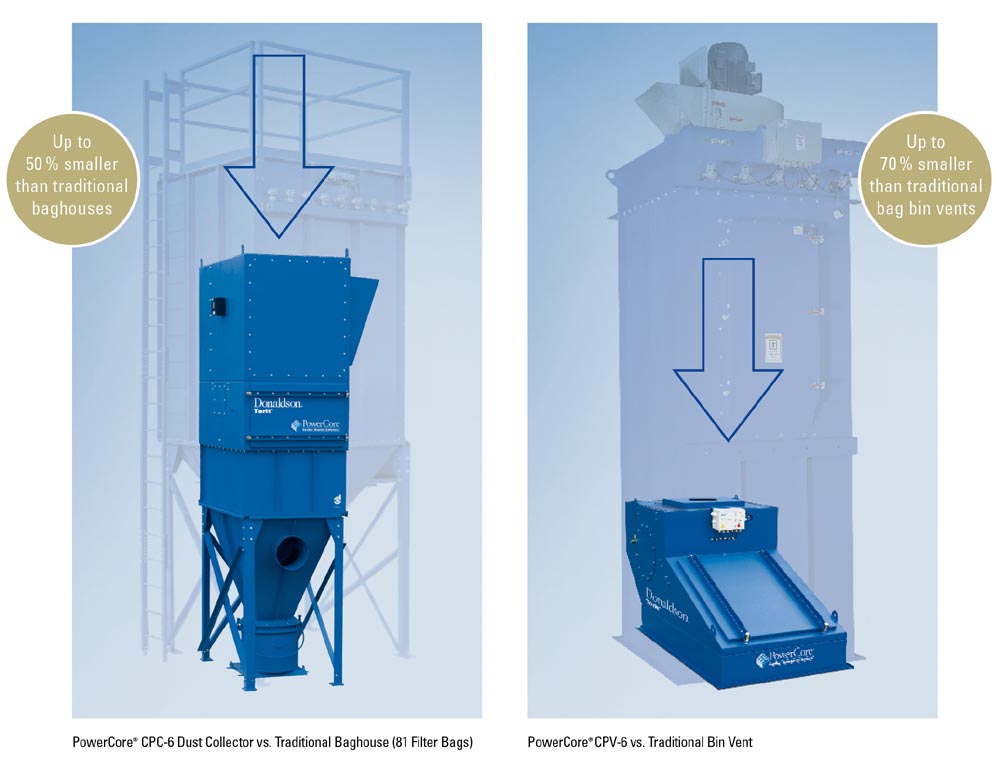 Donaldson PowerCoreThe Donaldson engineers were able to develop a dust collection system, which is superior to conventional bag filter units in decisive performance criteria and leads to substantial reductions in operating costs.

In comparison to conventional dust collectors, the Donaldson Torit units using the new PowerCore® technology are up to 70 % smaller. The significance of this development becomes evident with the following example: For a dust collection unit, which previously had to be equipped with 81 bag filters of each 2.40 m in length, now only 12 PowerCore® filter packs are required. In addition PowerCore® fulfils the requirement for a simple and service friendly maintenance of dust collectors, which has been an industries' demand for many years. Due to the incomparable easy filter pack exchange, great savings result in the filter changeout. While previously 10 minutes had to be applied for replacing a traditional bag filter, the time for replacing a PowerCore® filter pack is reduced to 2 minutes. At the same time the filtration efficiency could considerably be increased. Independent lab tests confirm: PowerCore® filter packs provide 78 % fewer emissions than standard polyester bags.

Two essential factors have led to this performance increase: As one of the leading providers of intake filters for heavy duty vehicles and turbo-machines, Donaldson successfully transferred experiences from this application area to the dust collection technology. The PowerCore® technology combines the advantages of the highly efficient and patented Ultra-Web® nanofibre media with the innovative and flow optimised shape of the filter packs. By the use of Ultra-Web® a higher dust load is collected on the surface of the media flutes, as would be possible with conventional fibre filters with a depth loading of 540 g/m2. This high surface performance combined with a patented pulse cleaning technology leads to the high performance increase, in the smallest spaces, at the lowest pressure drop and a minimised energy input.

PowerCore® units are available for airflows up to 34,000 m³/h and are amongst others successfully installed in the cement, bulk handling, food, plastics and wood industry.