Scanna Launches A New High Performance X-Ray Imaging Detector
Scanna has recently added a new high resolution x-ray imaging panel to its range of portable x-ray equipment.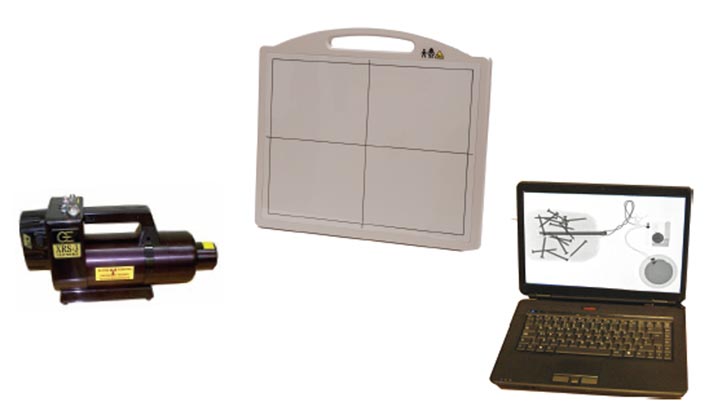 Scansilc 4336The Scansilc 4336 is a new high resolution flat panel x-ray imaging panel with a rugged water-resistant casing and inbuilt carry handles making it ideal for security applications.

It has a 36 x 43 cm (14" x 17") image area and is just over 2 cm thick offering users a very compact panel for checking larger objects and a superb 14 bit dynamic range and 139 micron pixel pitch for examining electronic components and circuitry.

The flat panel design allows the operator to get the imager into very confined spaces whilst the large screen size is suitable for scanning abandoned bags and suspicious packages.

Scansilc 4336 is controlled by the well tried and tested Scanview EOD x-ray triggering and imaging software and is suitable for users requiring a high end x-ray screening solution with hi definition images in the fields of security and NDT. Images and regions of interest within an image can manipulated using ScanView's powerful enhancement software and stored within a searchable database for evidential purposes

All components of the system - laptop, imaging panel, cables and x-ray source fit into a single rugged weatherproof case which also acts as a workstation.

Scansilc 4336 is the latest addition to the Scanna range of flat panel amorphous silicon portable x-ray systems that include the Scansilc 4030E with a 40 x 30 cm (16 x 12 inch) imaging area and the ScanSilc 2520 backpackable x-ray system with a compact 8 x 10" imaging area.

Scanna also supply CCD based portable x-ray systems, Computed Radiography portable x-ray systems and a range of postal x-ray equipment.