Working To EggsAct Specifications
When Croft Engineering Services were asked to provide a quotation for the University of Lausanne in Switzerland - they were not aware that something 'fishy' was going on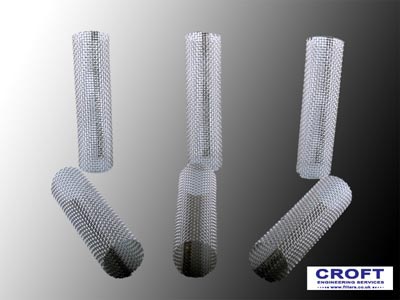 Croft were originally approached in 2009 to provide a quotation for Seamless Fine Mesh Tubes but the order was placed with a Chinese competitor purely on price.

Almost a year later Croft were approached again for a new quotation this time winning hands down as the client was dissatisfied with the quality from China. The Mesh Tubes had to be customer specific - seamlessly welded with the mesh hole size no larger than 2mm - the ends of the tubes were not to be folded.

Our client Rike Stelkens, from the Department of Ecology and Evolution at Lausanne University made particular emphasis that the tubes 'needed to be smooth with no sharp edges, yet robust' and that they must be resistant to corrosion as they would be placed in a river bed for several months. All became apparent when Croft were informed how urgent the Mesh Tubes were needed - 'we need them as soon as possible before the Trout season starts'.

After further correspondence with Rike she explained that she has started work on the ecology and evolution of Swiss endangered fish species (brown trout, grayling) and that the Mesh Tubes were to be used to accommodate Trout eggs for controlled breeding of the fish. Initially an order was generated for 200 Mesh Tubes with a further 80 a week later.

Croft Engineering Services met the deadline for delivery and the client has since been extremely satisfied and has just placed another order of 500 tubes!