Intersurgical At 35th Scandinavian Society Of Anaesthesiology And Intensive Care Medicine Congress 2019
Intersurgical will be showing a range of critical care, anaesthesia and airway management products at the 35th SSAI Conference in Copenhagen, Denmark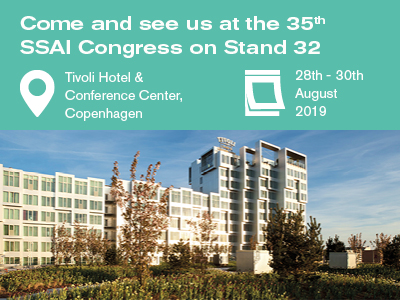 SSAI Conference is from 28th-30th August. Intersurgical will be showing a range including VariFit non-invasive ventilation (NIV) masks, MiniMe paediatric nasal NIV masks, StarMed respiratory hoods, TrachSeal Closed Suction Systems, ClearLite anaesthetic face masks, i-gel supraglottic airway device and the i-view™ video laryngoscope.

i-view is a single use, fully disposable video laryngoscope, providing the option of video laryngoscopy in the ER, ICU, maternity or the pre-hospital environment.

i-gel is a truly unique, single use, second generation supraglottic airway with a soft, gel-like non-inflatable cuff.

ClearLite is a new range of phthalate and PVC free anaesthetic face masks available with or without a hook ring, offering a clear choice to reduce your impact on the environment.

MiniMe is a single-patient use nasal NIV mask for use on children between the ages of two and 12. Available in two sizes with vented and non-vented options for CPAP and bilevel therapy, the mask can be used on one patient for up to six months.

VariFit is a single patient use hospital NIV mask for adult patients. The range includes three variations of mask to suit the patient's ventilation needs, identified by the mask elbow colour mask elbow. Featuring advanced AIRºgel cushion technology for enhanced patient comfort, the masks are available in three sizes: small, medium and large.

TrachSeal closed suction systems are designed to greatly reduce the potential for contamination from the bacteria that cause VAP. Featuring an ultra-clear soft sleeve and numerous other features, TrachSeal is available for 24- or 72-hour usage.

The StarMed respiratory hood range has been designed for both non-invasive ventilation NIV and CPAP therapy, providing an alternative patient interface to traditional masks. Offering several clinical benefits for both the patient and the care providers, the hood interface helps to overcome many of the issues experienced with both endotracheal intubation and face mask use.


We look forward to showing you our patient solutions on stand 32 from 28th-30th August.