Farnborough International Airshow Exceeds Expectations For AMETEK Specialty Metal Products
For the first time, AMETEK SMP presented its four key brands - Reading Alloys, Fine Tubes, Superior Tube and Hamilton Precision Metals - at this year's Farnborough International Airshow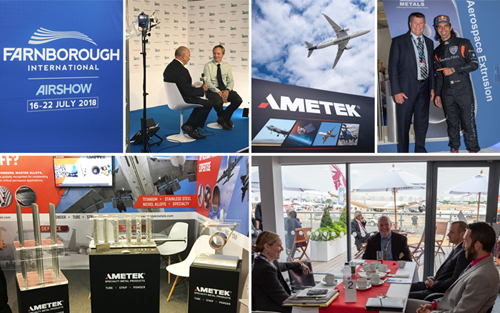 Tom Matway, VP Sales & Marketing for AMETEK SMP: "The event exceeded our expectations as we were able to conduct valuable meetings with our customers. Our position in the aerospace industry as a key supplier of advanced metallurgical products enables us to respond to some of the current trends in the market. Many of which include the need for higher temperature alloys to satisfy the demand for more powerful, more efficient and therefore hotter operating engines."

SMP also managed to exceed the expectations of the lucky prize draw winner Kirk Moore, President and CEO of TW Metals. At one of the upcoming Red Bull Air Races he will have the chance to take part in an adrenalin-pumping G-flight experience with one of the Red Bull Air Race pilots. Dario Costa, Red Bull Air Race Challenger Class pilot drew the winner and personally delivered the good news.

While hosting the first Red Bull Air Race demo to be held at the 2018 Farnborough International, Airshow visitors were treated to the spectacle of Dario Costa reaching speeds of 370km/h and enduring forces of up to 12G as he flew his Edge 540 racing plane around a low-level course marked by the famous 25 metre-high, air-filled pylons.