Expona Commercial Chevron Design Adds Instant Style To Boutique Hotel
Expona Commercial luxury vinyl tiles from flooring specialists Polyflor were used to create a stunning entrance and bar area for The Falcon Hotel in Bridgnorth, Shropshire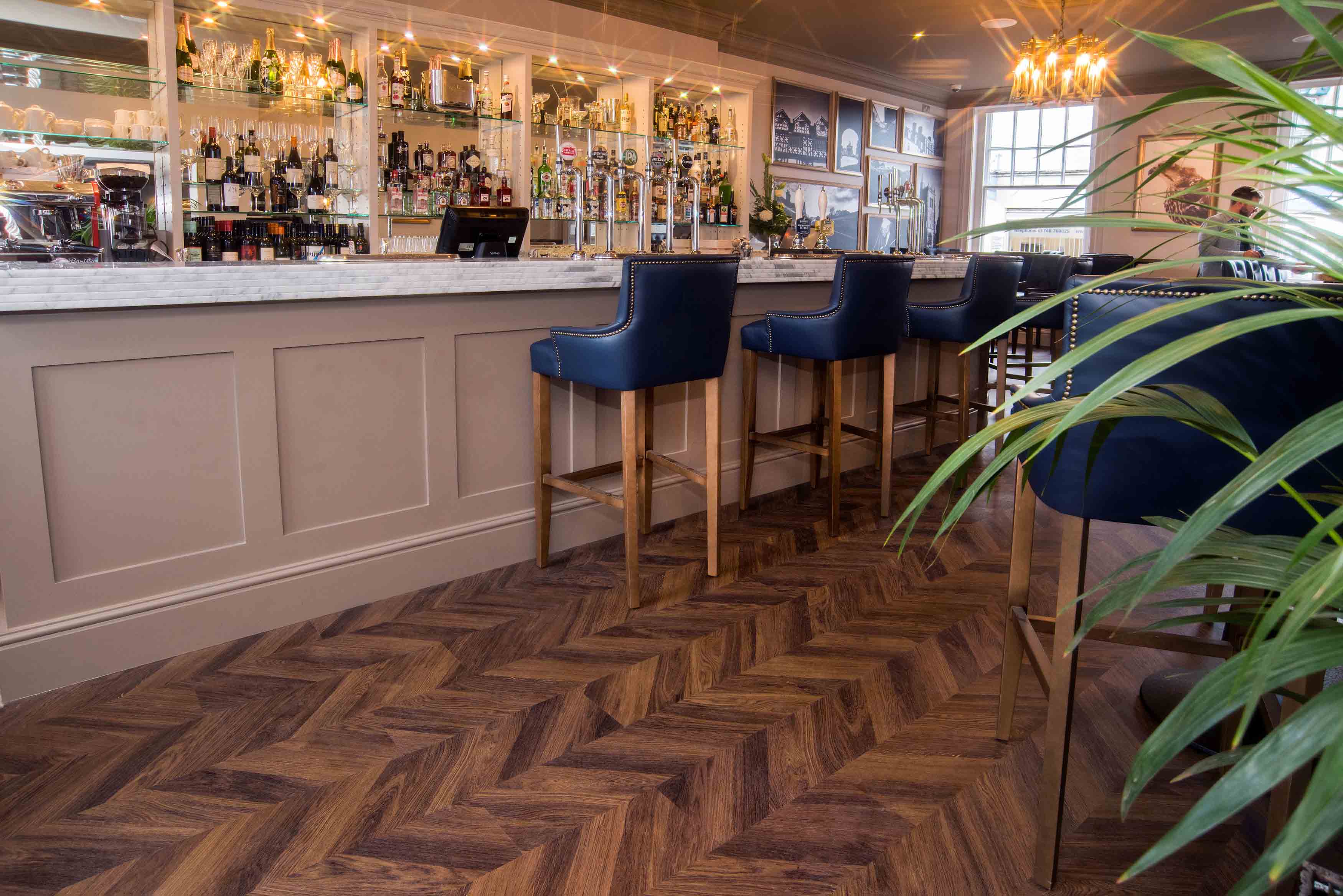 Approximately 150m² of Expona Commercial PUR luxury vinyl tiles in the Tanned Chevron Parquet design was installed by Graham Flooring as part of the boutique hotel's ground floor refurbishment project. With 14 bedrooms, The Falcon Hotel is a historic building, originally established in the 17th Century as a coaching inn.

Tanned Chevron Parquet is one of the unique designs added to the updated Expona Commercial collection in 2017. This product is one of the out-of-the-box design floor options which allows flooring contractors to create a chevron parquet effect quickly and easily, with minimal cutting required. A twist on the traditional parquet trend, this design is created by simply laying the full planks next to each other to produce the chevron effect.

Owner of The Falcon Hotel, Richard Davies commented, "The finished effect of this flooring design looks fantastic and creates a great first impression when guests walk into the hotel. The flooring could be installed quickly which was good news for getting our refurbishment finished on time."

The Expona Commercial range features 80 inspiring wood, stone and abstract effect designs, 55 of which are brand new additions to the collection. With new parquet, painted, mosaic, rustic and metallic effects, Expona Commercial LVT can be used to create adventurous interior schemes featuring bold statement flooring designs which tap into the latest architectural trends. Stunning yet subtle flooring designs in more traditional reproductions of natural materials give balance to this varied collection of 2.5mm gauge luxury vinyl tiles.

Designed for commercial interiors, all Expona products are enhanced with Polyflor PUR, Polyflor's exclusive and robust polyurethane reinforcement which is cross linked and UV cured to provide superior cleaning benefits and a cost effective maintenance regime.

The complete Expona Commercial collection is showcased within a brochure, presenter and shadecard. Sampling from all Expona ranges can be ordered free of charge on the Polyflor website or by calling the Polyflor Samples Direct Hotline on 0161 767 2551. Expona Commercial luxury vinyl tiles contain recycled material and are 100% recyclable via the Recofloor vinyl take back scheme.